Fast food: Asparagus and ricotta tart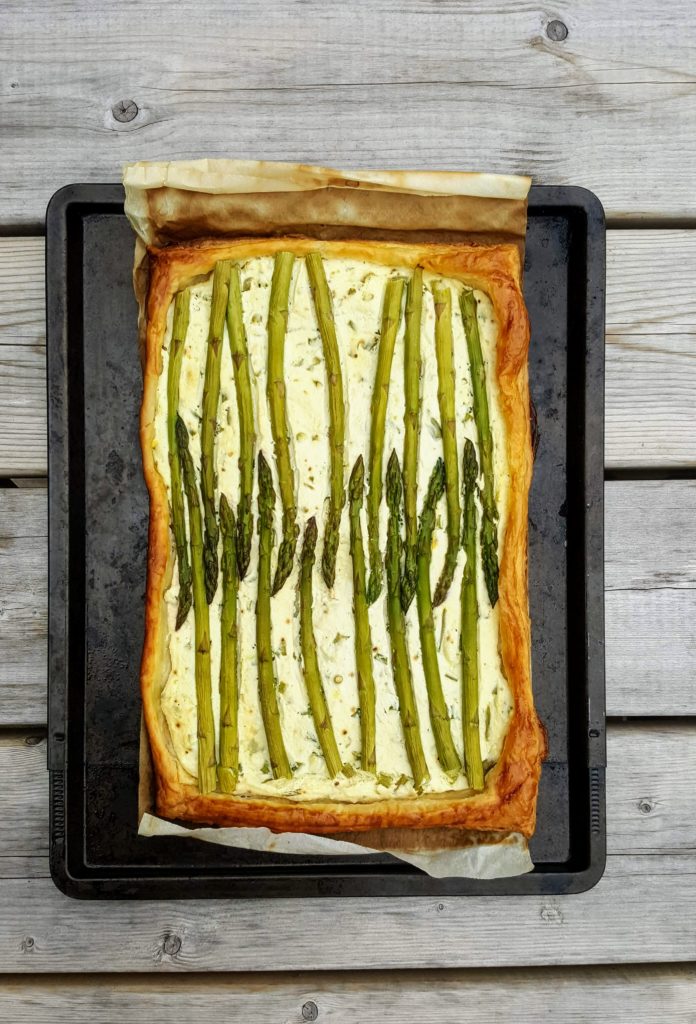 This is less a recipe and more a reminder – for myself – to make the most of asparagus while I can.
We are fortunate to have neighbours who regularly have an asparagus glut – we've got some beauties from them over the years – and whenever I see Irish-grown asparagus in farmer's markets or supermarkets, I pounce on it.  At the start of the season, we just simply roast it with butter and devour it with our fingers but, as we get a little more blasé, it doesn't hurt to have a recipe to showcase those precious spears.
This speedy tart was perfect for a weekend lunch with friends. We try not to eat too much with fingers, butter running down our arms, when other people are at our table (although it's hard to avoid it when the sweetcorn season hits) so I wanted to do something a little more civilised with the asparagus. It takes five minutes to put together and between 20-25 minutes to cook, just enough time to set the table and pull some salad together. Don't burn the bottom like I did (dodgy oven) but, even if you do, rest assured that it will still taste great
Asparagus and ricotta tart
Best made with Macroom Buffalo Ricotta and just-in-season fresh green shallots from West Cork Garlic, if you can get your hands on them at the treasure trove that is Skibbereen market. Serves 4, as part of a light lunch.
320g puff pastry
200g ricotta
75ml Greek yoghurt
1 egg, beaten
Zest of 1 lemon
2 green shallots or 3 spring onions, finely chopped
1 x 500g bunch of asparagus, stems trimmed
Olive oil, salt pepper
Preheat oven to 200C (fan 180C) and put a spare baking sheet in the oven, as this will help the base of the tart to crisp.
Roll the puff pastry into a rectangular sheet that is approximately 20cm x 30cm. With a sharp knife, draw a line about 2cm inside the edge, not cutting through to the base.
In a medium bowl, mix ricotta, yoghurt, egg (holding a tiny portion back for the glaze), lemon zest and chopped green shallots or spring onions. Season to taste. This will definitely need a decent amount of salt. Spread mixture evenly across pastry sheet, top with asparagus, drizzle with olive oil and cook for 20-25 minutes.