Chocolate biscuit hazelnut birthday cake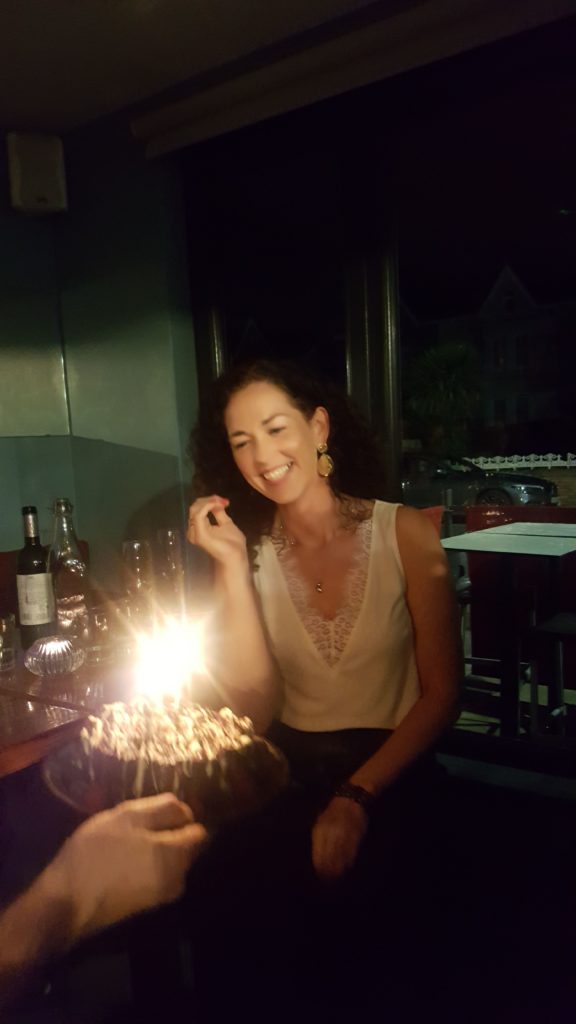 (Or, what to make when you've no time to make a cake.)
It was the Little Sister's Big Bad Birthday. She had been resolutely not wanting to make a fuss about it but eventually, after a lot of proactive prodding, she decided on dinner and drinks out in Cork.
This lady – my favourite sister (disclaimer: that I have living in the country at the moment) – is my partner in crime, cocktails, coffee and chocolate + morning after brunch. I often leave the Kiwi at home when we're following the above programme. She's also the person who you can rely on to bring Midleton market supplies to Sunday lunch: good coffee (Badger & Dodo), cheese (Ballinrostig), Arbutus bread and Barrie Tyner's chicken liver pâté.
In short, she's someone who deserves a Very Good Birthday Cake. With a week of events conspiring against me, as I cooked family dinner the night beforehand, I had to assemble something from ingredients that were already in the house. Chocolate biscuit cake it was.
To (slightly) take it out of the kid arena, I topped it with a layer of roasted hazelnuts – the girls were in charge of rubbing off the skins – and finished it off the next morning with alternating drizzles of dark and white chocolate, while juggling child drop offs, collections and present wrapping.
Dinner was at Salt: I dropped it there before heading into town for a wee stroll between cocktails in Cask and a pre-dinner Kinsale Pale Ale in Goldbergs. We ate, drank and made merry in Salt before the cake came out, simply surrounded by fresh fruit and lit up with candles. Sophisticated it was not, but it was very definitely made with love. And it didn't last long. Who can resist a chocolate biscuit cake at the end of an evening? Who would want to?
Chocolate biscuit hazelnut birthday cake
I make this in a 17cm spring-form tin to maximise the height but – as this size is not very common – feel free to substitute a different size eg a 20cm spring-form tin. Serves 8-10 or, in this case, 12 very happy people!

400g dark chocolate, 40-50% cocoa solids, broken into pieces
175g butter
2 tablespoons golden syrup
½ teaspoon salt
250g digestives
93g Maltesers. It's the weight of a large pouch.
75g roasted, skinned hazelnuts (get the kids to rub the skins off)
To finish
25g white chocolate
25g dark chocolate, 70-80% cocoa solids
Line a 17cm round spring-form tin with cling film.
Melt the chocolate, butter and golden syrup together in a bowl placed over a saucepan of simmering water, making sure the bowl does not touch the water. Stir in the salt and allow to cool for 5 minutes while breaking the biscuits into pieces. The girls also like to help with this job. Make sure they don't eat too many while doing so.
Tip in the biscuits, followed by the Maltesers, and stir thoroughly.  Scrape into the cake tin, pushing it well into the corners, and level the top off with the back of a spoon. Scatter the hazenuts on top, pushing them into the soft chocolate. Cover the tin with cling film and refrigerate until set, at least 4 hours.
Remove from the tin, peel off the cling film and place on a serving plate. Melt the white chocolate, either over simmering water or in the microwave, checking every 15 seconds. Using a teaspoon, drizzle lines across the top of the cake. Repeat with the dark chocolate. Serve in thin slices.