Read: Journal.ie | 6 vegetarian-friendly alternatives to the classic Sunday roast – Pot roast cauliflower with spiced butter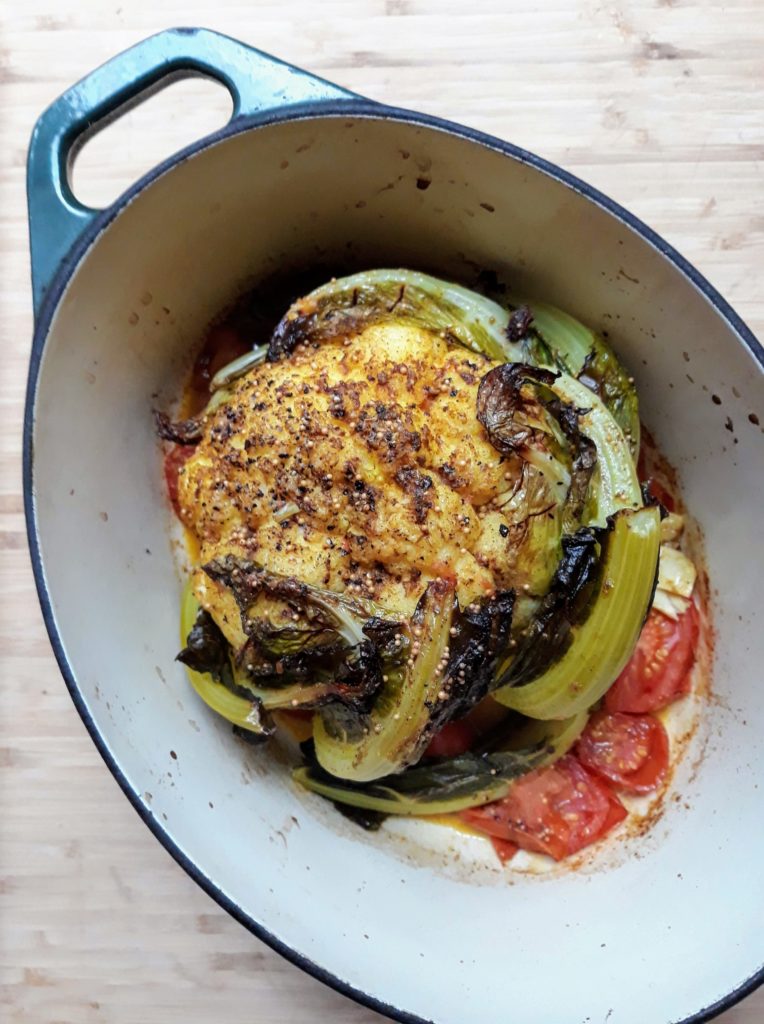 It's definitely the weather for a roast – but it doesn't always have to involve meat. I wrote this feature on Sunday roasts that feature all the flavour, but with veggies as the main event, for TheJournal.ie.
The pot roast cauliflower is a real favourite in our house. Just make sure that you give it enough time. I've discovered that all cauliflowers are not equal, in size and in density, so judge accordingly.
Full article, from lentil & goat cheese-stuffed butternut squash to smoky roast aubergines via link below.
October 2019 Just as tasty: 6 vegetarian-friendly alternatives to the classic Sunday roast
Pot roast cauliflower with spiced butter
Make this a one-pot meal by boiling the cauliflower in a deep cast-iron casserole dish that can move from the top of the stove into the oven. The last time I cooked this, I had a bowl of ripening tomatoes – the last of the beauties grown by my uncle – sitting on the worktop. I grabbed the four ripest, cut them in half and cooked them underneath the cauliflower where they absorbed all the gorgeous spiced butter flavours. With accompaniments, serves 4.
1 large cauliflower
1 teaspoon garam masala
1/2 teaspoon mustard seeds
1/4 teaspoon turmeric powder
1/4 teaspoon chilli powder
50g butter
1 tablespoon sunflower oil
4 tomatoes, halved (optional)
Sea salt, freshly ground black pepper
Preheat oven to 220C / 200C fan. Level the base and trim the leaves of a large cauliflower to expose the white head. Lower it into a large saucepan of boiling salted water and simmer for 10 minutes, until partially cooked
Drain in a colander and leave to steam dry for a few minutes. Mix garam masala, mustard seeds, turmeric and and chilli powder in a small bowl with the melted butter and sunflower oil.
Rub this mixture into the cauliflower and season well with salt and pepper. Place the cauliflower on a rimmed baking tray – or into a deep casserole dish, on top of the tomatoes – and roast for 45-50 minutes, basting occasionally, until it is tender and well browned.
Squeeze lime juice over the cauliflower, sprinkle with a handful of toasted flaked almonds and eat with a simple tomato sauce and coconut rice.
More features on TheJournal.ie
September 2019 6 of the best… twists on the classic shepherd's pie for a cosy autumn meal
September 2019 Box set lined up? 7 delicious one-bowl dinners that are perfect for a night on the couch
August 2019 One-pot dinners: 6 comforting veggie casseroles ready in 30 minutes or less
July 2019 Raid the cupboard: 6 delightful summer dinners that are as simple as opening a tin of beans
July 2019 'Eggs with a side of mountain views': 7 fry-up breakfasts in incredible locations around Ireland
June 2019 Grand stretch: 7 easy summer dinners for when you don't want to be in the kitchen
June 2019 'Sit on the pier and tuck in': 7 seaside chippers around Ireland that are worth the drive