Read: Irish Examiner | Eat Limerick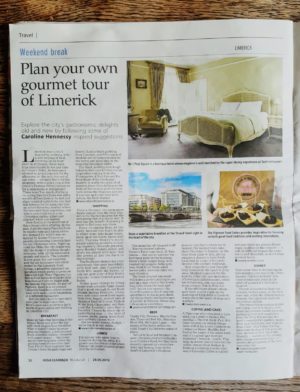 An edited version of this feature was first published in the Irish Examiner on 22 September 2019.
Limerick was a city I learned by walking, with a side helping of food. Growing up an hour away in Kilfinane, there were trips punctuated by tea and cake in Cruise's Hotel. As teenagers – allowed to Limerick for the afternoon on the only bus out of our town – we were there for the shopping, with a quick stop at Pat Grace's Famous Fried Chicken or for a milkshake at Burgerland. There wasn't so much of a focus on eating then but there was still a wealth of food history tucked just slightly out of sight in the city that was famous for its ham, that had an active Saturday market where farmers sold their vegetables and where you could have your Christmas turkey killed and plucked while you waited.
Now food is at the forefront of this vibrant city's offering. In the past, it got the name Pigtown from its sizable ham and bacon industry, demand for which was enhanced by Queen Victoria reputedly demanding Limerick ham for her Christmas table. Right up until the 1980s the city centre was still the home of working slaughterhouses, with all the associated sounds and smells. The industry is now gone, but not forgotten, and the old nickname was resurrected by the Limerick Food Group, a proactive voluntary association which works to promote Limerick food. Their Pigtown Culture & Food Series festival for 2019 will launch on Friday 20 September –  Culture Night – with the famous Pig Parade. As part of Pigtown, there's an annual Limerick Food Mile, a four-course meal with each course happening in a different restaurant. But you don't have to wait until September to experience this. Here's your own guide to a day's worth of good eating and walking in Limerick City.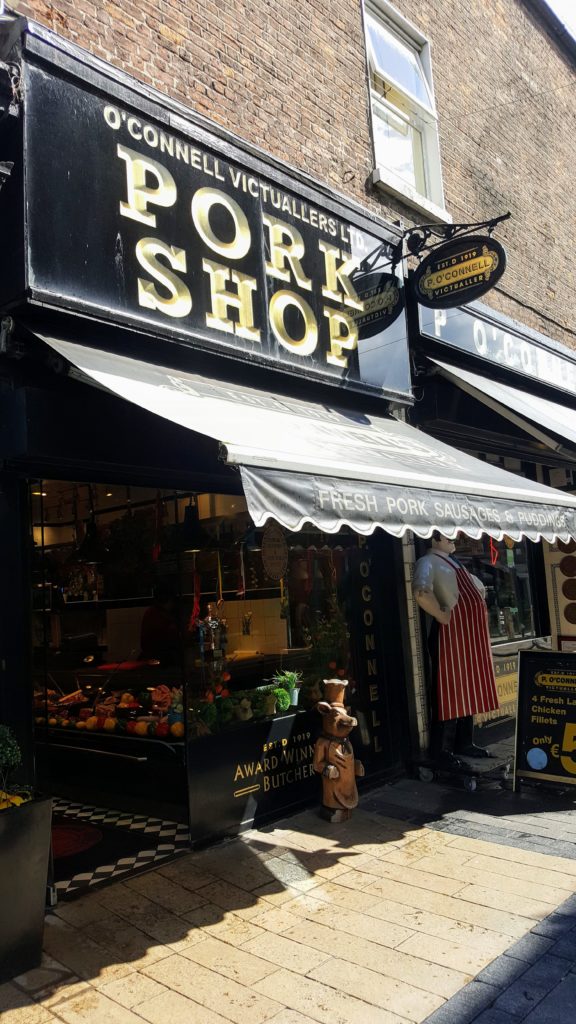 Breakfast: Strand Hotel
Wake up Saturday morning at the Strand Hotel and greet the day with their stupendous breakfast. What it doesn't make in house – granola, chutney, a well-stocked fresh smoothie station, complete with paper straws – this hotel knows how to source under the guiding hand of executive chef Tom Flavin: find suppliers like Croom's Sean Duggan (eggs and honey), Leah's black pudding from Listowel and Effin smoked cheddar namechecked on the menu and piled high in the bountiful breakfast buffet. The black pudding sourdough baked in their own kitchen (recipe inspiration coming from Joe Fitzmaurice of Riot Rye and Patrick Ryan of the Firehouse Bakery) is worth the price of admission alone. Get a table near the front of the room to grab the best view across the Shannon and see if you can spot your next destination, the Milk Market.
www.strandhotellimerick.ie
Shopping: Milk Market
From a distance, the permanent fabric canopy over the Milk Market in the Market Quarter has the welcoming feel of a circus tent. It also has the benefit of making it easier to find your way there. Have shopping bags at the ready because you won't be able to resist picking up some take-home treats. Stock up at the Green Apron stall with Theresa Storey's multi award-winning products including raspberry chocolate preserve, spicy Bombay tomato pickle and a new innovation: green tea, mixed with mint, that she grows at her tea farm in Derryclough. The Sunflower Bakery has a rye sourdough that goes beautifully with that jam and Crawford's Farm will supply the butter, or you can grab a jar of Nut Shed's crunchy honey roasted peanut butter.  Other good things to bring home: rose avocado hand cream that's good enough to eat from Nóinín Herbal Products, cinnamon and raisin wood-fired bagels from Holy Bagels, several bars of Hazelnut Duet Milk from Trish at Wilde Irish Chocolate and then visit the Aladdin's Cave that is Country Choice to stock up on everything else – the best of cheese, meats, pasta, dried fruit and carefully chosen wine. Not too many tasters, though. We've lunch in our sights.
www.milkmarketlimerick.ie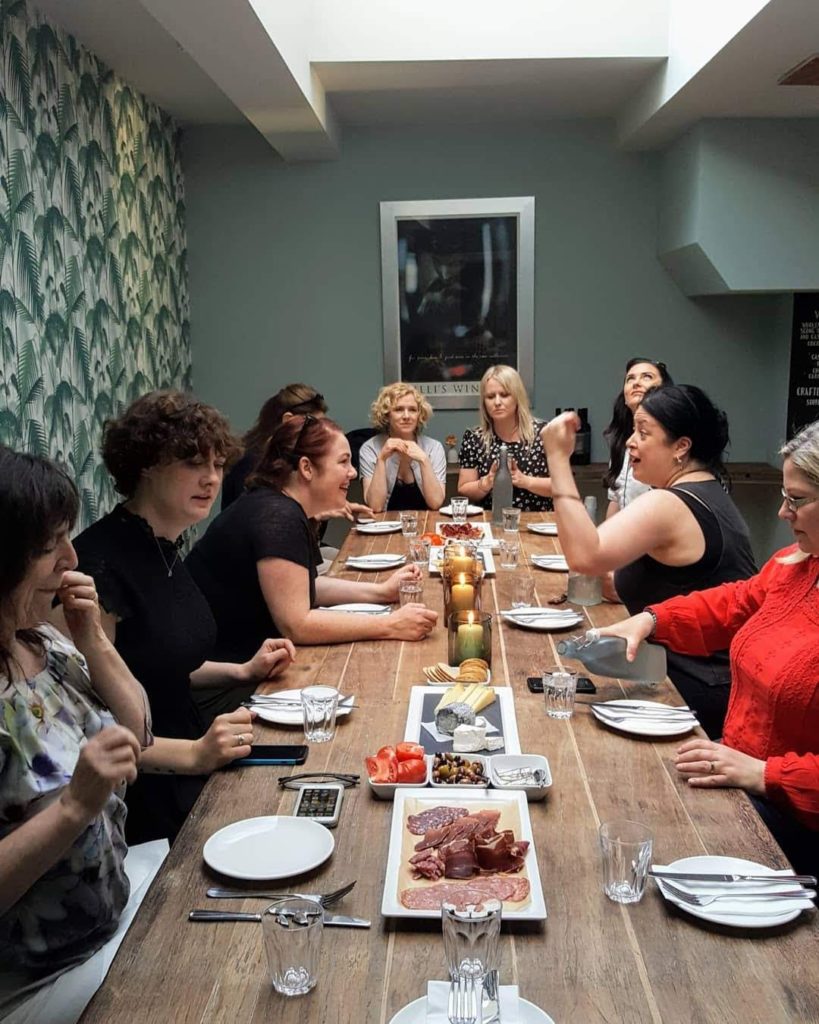 Lunch: Green Onion Café  
For anyone who spent time in Limerick during the 1990s, it's good to see the return of the Green Onion Café under original proprietor David Corbett. The menu has all the good stuff – Burren smoked salmon, Crowe's Farm ham hock, St Tola cheese – but you're here for the best tuna salad in the business: Shine's Irish-caught tuna, with roasted red peppers, baby potatoes, Gold River Farm salad leaves and a delicious cider vinegar dressing. The fresh pressed lemonade will make a perfect pairing as you pull up a high stool at the lovely long table down the back and chill. You're just opposite the Hunt Museum so don't miss the opportunity to nip in and check out the portraits and landscapes of Lavery & Osborne: Observing Life summer exhibition.
www.instagram.com/greenonionlimerick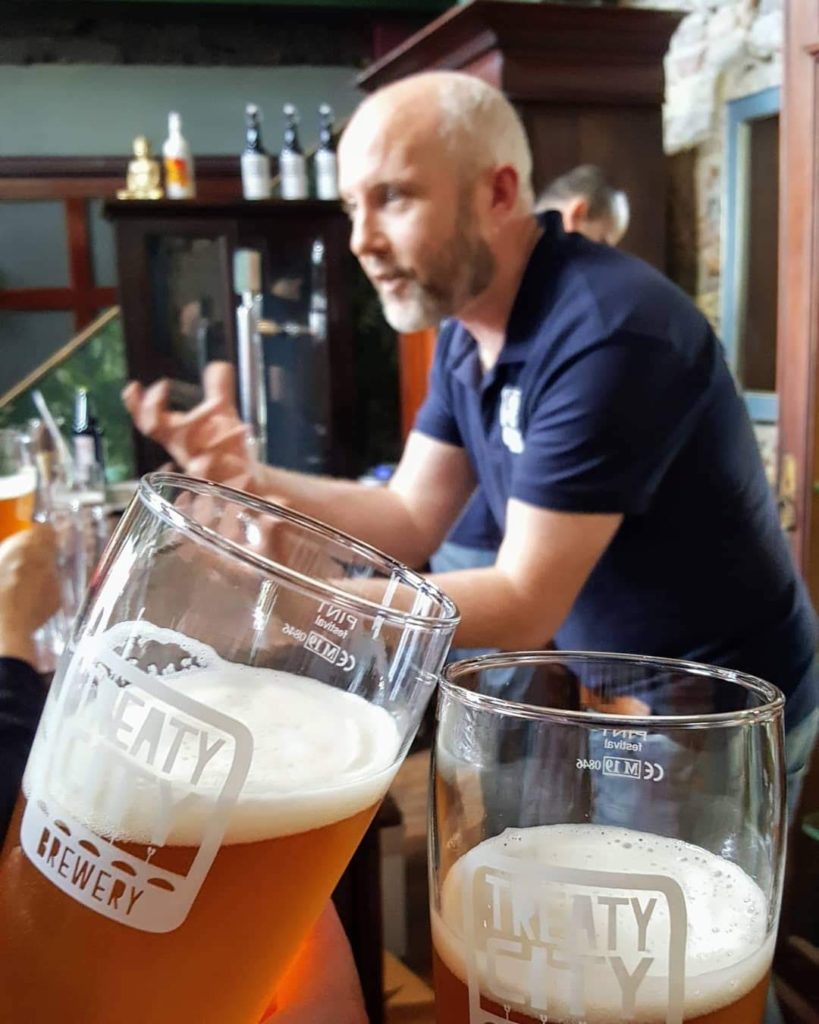 Beer: Treaty City Brewery
Harris Pale Ale, Thomond Red Ale, Shannon River IPA, Hellsgate Lager: the beer names reflect the solid Treaty City Brewery sense of place. Set up by local lad Stephen Cunneen, the main production facility is on Childers Road but they have recently opened up a microbrewery and tasting room in the heart of Limerick's Medieval Quarter and that's where we're headed. Prebooked tours take place Thursday to Sunday, on the hour from 12pm to 4pm, giving punters a chance to taste fresh local beer in a pair of formerly derelict 18th century buildings. Now respectfully and thoughtfully renovated, the space is gorgeous, Stephen's passion for the history of his city and mechanics of brewing is infectious and, while we're listening, you can make mine a hoppy Harris Pale Ale. If the afternoon doesn't disappear here, you're right on the doorstep of King John's Castle to learn about 800 years of siege and warfare.
treatycitybrewery.ie
Coffee (and cake): Canteen
A Tipp man, who relocated to Limerick via a stint in Heston Blumenthal The Fat Duck, Paul Williams focuses on simple things done well at his lovely Canteen on Catherine Street. Healthy fast food is the name of the game here and it's a great spot to enjoy breakfast / brunch / lunch. This time, however, you're here for the coffee: choose from Badger & Dodo or a rotating roaster (Galway's Calendar Coffee is a good bet) and there are always homemade muffins on the counter. It will be difficult to pass the raspberry and chocolate so don't even pretend to try.
wearecanteen.com 
Dinner: Sash at No 1 Pery Square
Take some time to freshen up before making your way to No 1 Pery Square, Patricia Roberts' boutique townhouse hotel in the heart of Limerick's Georgian Quarter. Dinner is booked at Sash restaurant, tucked away on the first floor and, while the atmosphere is relaxed, the Limerick clientele are always stylish. The menu (three courses at €49) isn't large but it is choice, with many ingredients locally sourced, including fruit and vegetables from the Milk Market and the hotel's own kitchen garden, meats from local butchers and seafood from Clare. Don't miss the Pigtown ham hock & foie gras terrine. Service is first class and friendly – watch out for personable young sommelier Gary, a passionate proponent of the fabulous wine list.
oneperysquare.com/sash-restaurant
Pigtown: there's eating, drinking – and walking – in it.