Gingerbread House 2019 + Christmas Eve traditions
Christmas Eve is when we move – lock, stock and all-the-presents barrel (while not forgetting the cat) – 30kms down the road into my folks' house. The most important aspect of this busy day involves finishing the gingerbread house, a tradition that I cursed myself with when the Small Girl was just a babe in arms and I had a two-and-a-half year old toddler. I've never been allowed to abandon it since.
This torturously long process starts at the beginning of December when the special baking mould emerges from the battered old suitcases where the Christmas decorations live. It's pointed out to me at regular intervals thereafter, just in case I forget to get things moving through the various stages, which include: making gingerbread dough, moulding the dough, baking the dough, putting the baked pieces away for the day when we have more time, never having enough time in December, discovering that there's a shortage of royal icing powder, finally tracking it down and making the icing, using the icing to assemble the gingerbread house walls, letting everything dry overnight, carefully putting on the roof and – the pièce de résistance – decorating the house with as many jellies and liquorice allsorts as it can hold.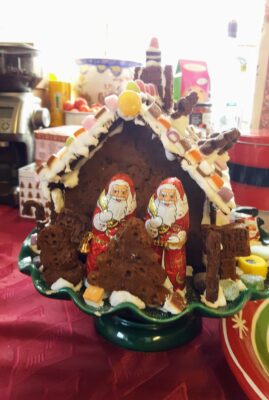 The decorating often happens on Christmas Eve, as I fly around packing, because the gingerbread house – in all its fragility – also has to be transported to my parents' house. Not too near the cat though. Every year, it's something that has to be squeezed into random corners of December. Every year, the girls insist on doing it exactly the way I've described. No shortcuts! Every year – despite everything – I love doing it with them. Roll on Christmas 2020, and our tenth gingerbread house.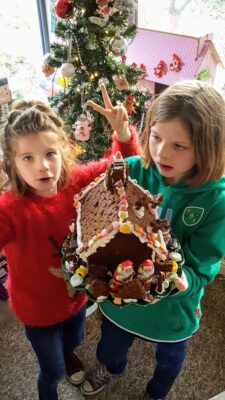 #Gingerbreadhouse2019 Stage 4: that's a wrap! We obviously had to get ALL the sweets, including the disliked but very necessary liquorice allsorts, to decorate the house so I gave them the piping bag and they worked away. The girls' verdict? "Even better than last year!" pic.twitter.com/OgQpSNWuG7

— Caroline@Bibliocook (@Bibliocook) December 23, 2019