The simplest (gluten free) chocolate tart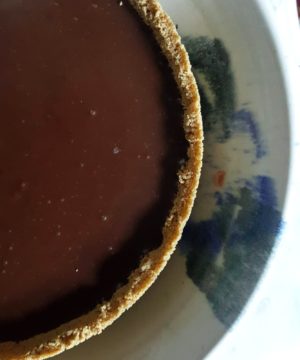 Time. It's disappearing. Slipping through my hands as I try to work at a job I love and manage kids and cook dinner for everyone and squeeze in some walks outdoors and spend time with family and friends.
And bake.
Because baking is important too. But, while I do love a baking project, sometimes simple is the best. This chocolate tart started – as much of my cooking does – from something that I found in my pantry: my coeliac mother had off-loaded a packet of gluten free oatcakes. Every time I opened the door they were there, looking back at me. Until it came to one Sunday lunch and, with time against me, I determined that they were going to return to her house, in a new guise.
I whizzed up the offending oatcakes with butter and sugar, pressed them into a tart tin, baked it off and transported it – carefully, it was still warm – to my parents' house. While the last bits of a roast lunch were coming together, I poured hot cream over dark chocolate, stirred them together and poured the silky mixture into the oatcake crust. It spent an hour in the fridge to set and then we ate – nay, devoured! – it for post-roast pudding. Most Sundays we divide the desert remnants between us for a Monday treat. There were no left overs. Time to make this again?
The simplest chocolate tart
The brand of gluten free oatcakes that I used was Nairns and the packet is 168g so I won't judge you – nor will it make a marked difference to the recipe – if you're a few grams short of the 175g called for here. You can, of course, use regular oatcakes if you're not catering for gluten free parents. Either way, one of the loveliest things about this tart is the contrast between the gloriously smooth chocolate ganache filling and the textured, crunchy oatcake crust. Serves 8. Or a greedy 6.
Crust
175g oatcakes, gluten free if necessary
100g butter, softened
3 tablespoons sugar
1/4 teaspoon cinnamon
Pinch of salt
Filling
300ml cream
300g dark chocolate, 55% cocoa solids, chopped – check the label if it needs to be gluten free
1/2 teaspoon salt
Preheat your oven to 180C. Grease the sides and base and sides of a 25cm diameter loose-bottomed tart tin.
Roughly break up the oatcakes and drop them into the bowl of a food processor. Whiz until they turn into crumbs. Add the softened butter, sugar, cinnamon and salt. Blitz them all together until well mixed and they start to clump. Scrape into the tart tin and, using your hands and a spoon or – best tip – the base of a straight-sided measuring cup, press evenly and smoothly across the base and up the sides of the tin. Bake for 15 minutes until dark golden. Allow to cool.
For the filling, heat the cream over a medium heat until just about to boil. Put the chopped chocolate into a bowl and pour over the hot cream. Add the salt and stir gently until the mixture is silky smooth. Cool, then pour into the baked crust. Smooth out any bubbles. Place in the fridge for an hour, uncovered, until set. Remove tart from tin. Serve just as is, in thin slices – it's rich! – or, if you have more time, decorate with sifted cocoa or a sprinkle of flaky sea salt. Some softly whipped cream is never a bad idea.
Optional – but this is really good: Mix 100g smooth apricot jam with 2 tablespoons brandy. Spread across the base of the tart before adding the chocolate filling.