Cheese, chocolate & black pudding: Irish Food Writers' Guild Awards 2020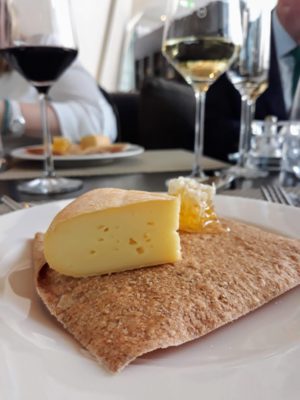 Three simple products: cheese, chocolate and black pudding. When done right, when made by people who care deeply about provenance, about craft and about the food that they produce, these can be sublime. Cheesemaker Jeffa Gill of Durrus, chocolatier Allison Roberts of Exploding Tree and black pudding maker Máirín Byrne of Inch House were amongst the small independent producers making some very fine food who were honoured at today's Irish Food Writers' Guild annual Food Awards at Dublin's Marker Hotel.
There were also awards given to the sublime delicacy that is hot smoked Irish salmon from Cobh's Frank Hederman, the most delicious jarred tuna from Shine's Wild Irish Tuna in Donegal and Teeling Single Pot Still Irish Whiskey, the the first new pot still whiskey to be produced in Dublin in almost 50 years. This year's Community Food Award went to Falling Fruit Ireland, which harvests gluts of fruit and by redistributing it to charity, focuses on avoiding food waste and celebrating the local bounty. Joyce Timmins, who came to our attention initially for her work at improving the food offering in the Rotunda, was the winner of the Outstanding Contribution to Irish Food Award for her work in changing perceptions of hospital food. As she goes on to do the same for older patients at Marymount, you can keep an eye on her inspirational efforts by following her on Twitter.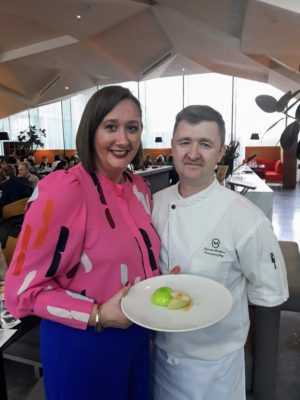 The winners were celebrated at lunch in The Marker Hotel, with a six course lunch devised by executive head chef Gareth Mullins (above, right), which showcased the award-winning produce.
Teeling Pot Still Spring Cup cocktail
Shine's Wild Irish Tuna Belly, Nicoise Salad, Quail Egg
Inch House Traditional Black Pudding and Chicken Pithivier, Celeriac, Brown Sauce
Steamed Brill, Hederman Hot Smoked Salmon, Asparagus, Seaweed
Joyce Timmins' Bavarois with Falling Fruit Ireland Apples (above in the picture, held by Joyce)
Durrus Cheese, Cumin Lavosh, Honey
Coffee and Exploding Tree Chocolates
More information on the awards, including Gareth's recipes, now online at www.irishfoodwritersguild.ie/2020.html
Congratulations to the winners of the 2020 Irish Food Writers' Guild Food Awards:
1. Food Award: Frank Hederman for Hederman Hot Smoked Irish Salmon, Co Cork
2. Food Award: Shine's Seafood for Shine's Wild Irish Tuna, Co Donegal
3. Food Award: Inch House Traditional Black Pudding, Co Tipperary
4. Irish Drink Award: Teeling Single Pot Still Irish Whiskey, Co Dublin
5. Outstanding Contribution to Irish Food Award: Joyce Timmins, Co Dublin
6. Environmental Award: Exploding Tree (Chocolate), Co Cork
7. Community Food Award: Falling Fruit Ireland (fruit harvesting), Co Dublin
8. Lifetime Achievement Award: Jeffa Gill (cheesemaker), Co Cork
More Irish Food Writers' Guild
Irish Food Writers' Guild Awards 2019
Irish Food Writers' Guild: Community Food Award
Celebrating Irish food: 2018 Irish Food Writers' Guild Awards
Irish Food Writers' Guild Food Awards 2016