Sprinkle cupcakes for when you're off school
When she first got off school, Little Missy decided that she wanted her own food blog space so – with very limited editing and the first pic taken by her – here's her first entry.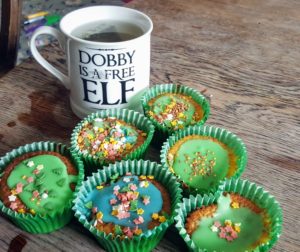 Dear readers
My name is Little Missy.
I am 11 years old and have been off school because of COVID – 19 that has badly effected our world. We can't visit  friends or family which is torture.
My principal told us to do lots of baking so I think so everyone should do it too!
These are fun and easy and simple!
Sprinkle cupcakes
Makes 12
Feeds 1 big daddy
Ingredients:
150g caster sugar
180g softened butter
2 eggs
1 tsp vanilla extract
150g plain flour
½ tsp baking powder
pinch of salt
120ml milk
3 adult handfuls of sprinkles
METHOD
Step 1: Preheat the oven to 180C and line a cupcake tin with 12 cases.
Step 2: In a small bowl weigh the butter, put it into the microwave for 30 seconds, take it out and put it in a big bowl.
Step 3: Measure the sugar out into the big bowl with the butter. Mix together with a mixer until pale and fluffy.
Step 4: Then get out a small bowl and crack the eggs into it. When done, mix the eggs into the butter and sugar.
Step 5: Mix in the vanilla extract. Put all the dry things in a separate bowl and whisk them together.
Step 6: Put all the dry things in the big bowl and mix.
Step 7: Add the milk and stir to combine. Add in the sprinkles .
Step 8: Fill the cupcake cases about ½ full.
Step 9: Open the oven and place the tray in. Bake for 15-20 mins.
Step 10: ENJOY!