Rhubarb & strawberry cobbler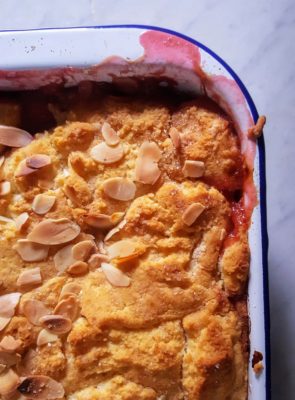 It feels as if there's been a lot more sweet things around the cottage lately. This might be due to a combination of the girls baking more – thanks to cookbook gifts from the Kiwi's Mum and the Baby Sister – the fact that I needed a large cake for my birthday and several waves of birthday chocolate arriving on the doorstep.  All good things.
But sometimes – just sometimes – after all that chocolate, it's time to head in a fruity direction for pudding. The first time I made this rhubarb and strawberry cobbler, it was in the depths of winter, we were at my (coeliac) parents' house, there was a vast amount of stored fruit to use up from the deep freeze and some apple jelly that my Mum wanted to use up. This cobbler was the result.
It's the perfect way to use up any fruit, frozen or fresh, but you can't beat making it when the rhubarb season is in full swing and Irish strawberries are appearing. If you have an elder tree in the garden, gather a handful of the elderflowers and mix them through the fruit before you add the cobbler topping.
Rhubarb & strawberry cobbler
If you don't have apple jelly on hand to sweeten the rhubarb, use your favourite jam: strawberry, gooseberry and raspberry all go well the fruit used in this dish. Alternatively, you can use 75g soft brown sugar or sweeten to taste. Serves 6. 
1kg rhubarb, chopped
100g apple jelly
250g strawberries, halved if large
Optional: ½ tablespoon cornflour – if needed for thickening
250g plain flour – gluten free flour, if that's what's needed in your house
2 teaspoons baking powder
1/2 teaspoon bread soda
1 teaspoon salt
100g butter, melted
175ml buttermilk, fridge cold
1 tablespoon demarara sugar
1 tablespoon flaked almonds
Preheat the oven to 200C. Put the rhubarb and apple jelly into a baking dish that's about 23cm in diameter and 5cm deep – you don't want to lose any juices.
Toss well together and bake for 15 minutes, until the rhubarb is softened a little. If the juices need thickening, sprinkle the cornflour on top and stir well together. Add the strawberries.
Whisk the flour, baking powder, bread soda and salt together. Pour the melted butter into the buttermilk, stir well, then gently mix into the dry ingredients.
Dollop spoonfuls over the top of the fruit – it won't entirely cover the mixture but it will spread as it cooks. Sprinkle with demarara sugar and flaked almonds before baking for 25-30 minutes until risen and golden. Serve, while still warm, with very cold vanilla ice cream.