Toad in the Hole with Inch House Black Pudding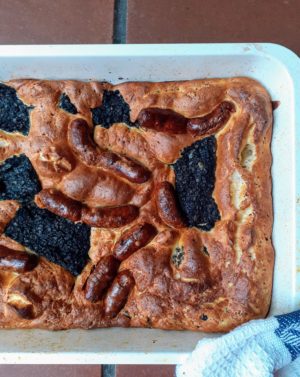 Smallies – frustratingly – change their minds about food.
Cue lines from me like:
"But you liked this pasta / rice / cheese / breakfast / lunch / dinner only last week!
Little Missy, with a confident air of having caught me out:
"Like you always say, Mummy, tastebuds change."
That said, there are some things that remain constant – despite my constant attempts to wedge extra nutrition into mealtimes (wholemeal pasta most of the time, brown rice ditto, lots of spelt and wholemeal flour in baking, veg in all pasta dishes, lentils cooked into stews and ragu) – and one of those is Toad in the Hole.
That said, the toad doesn't always arrive to the table in the same way. I can never resist giving a recipe a new twist. Some work, some don't. Their tastebuds keep changing; so do my recipes.
This version, using the wonderful Inch House black pudding that took an Irish Food Writers' Guild Award back in another world, back in March, is a definite winner.
Toad in the Hole with Inch House Black Pudding
My favourite toad recipe comes courtesy of the great Felicity Cloake in The Guardian but I make 1½ times the recipe so that there's enough crispy batter to go around. Check her recipe for the original measurements. I've played a bit fast and loose with the milk / beer ratios here – we normally have 330ml bottles at the cottage so that's the easiest measurement. I normally use lagers or pale ales, and red ales also work well with the sausages and black pudding.
150g plain (or spelt) flour
3 eggs
70ml milk
330ml beer
1 tbsp wholegrain mustard
Pinch salt
3 tablespoons beef dripping (James Whelan's is perfect), olive oil or – discovered in the freezer – duck fat
300g Inch House black pudding or your favourite black pudding
6 sausages
Preheat the oven to 220C (200C fanbake).
Sift the flour into a large bowl and make a well in the centre. Break the eggs into it and whisk together, gradually adding the milk and beer. Stir in the mustard and salt. Allow to sit for at least 15 minutes.
Put the dripping / oil / fat into a roasting tin – mine is 35cm x 27cm – along with the sausages and black pudding and put into the hot oven for about 10 minutes, until browned and sizzling. Remove from the oven and, as quickly as possible, pour over the batter. Return to the oven immediately and bake for 30-35 minutes until brown and well risen.
Serve with your favourite gravy. While digging around in the freezer, I also found a stash of cider gravy from this Slow Cooked Beef with Irish Cider which we used. Also good with a bowl of peas and some crunchy red cabbage 'slaw.