A Lockdown Long Table Picnic
For three years, a mainstay of Cork's Midsummer Festival was the Long Table Dinner with South Mall turned into a flower-festooned dining area and each course coming from a different restaurant.
I never managed to get a ticket; every year they disappeared as soon as they were released.
Last year, it was a Walk the Long Table event, with food lovers strolling around town to meet the chefs and restaurateurs behind the scenes, eating as they went. My sister and I went together; we had an absolutely riotous night touring the city with a merry band of fellow food lovers, and eating all the food.
For 2020, the Cork Long Table collective – reluctant to abandon the idea of celebrating Cork restaurants and local food altogether – put together a picnic, naming the restaurants involved but giving little more information. With no idea of how it would work, I snaffled a ticket – during a particularly bad lockdown week – and promptly forgot about it until I got a reminder about picking up my picnic. A meal assembled and cooked by someone else! It did involve some juggling: a trip to Cork to collect and a re-jigging of meal times, much to the consternation of the smaller members of household. All the things that were normal in pre-Covid days.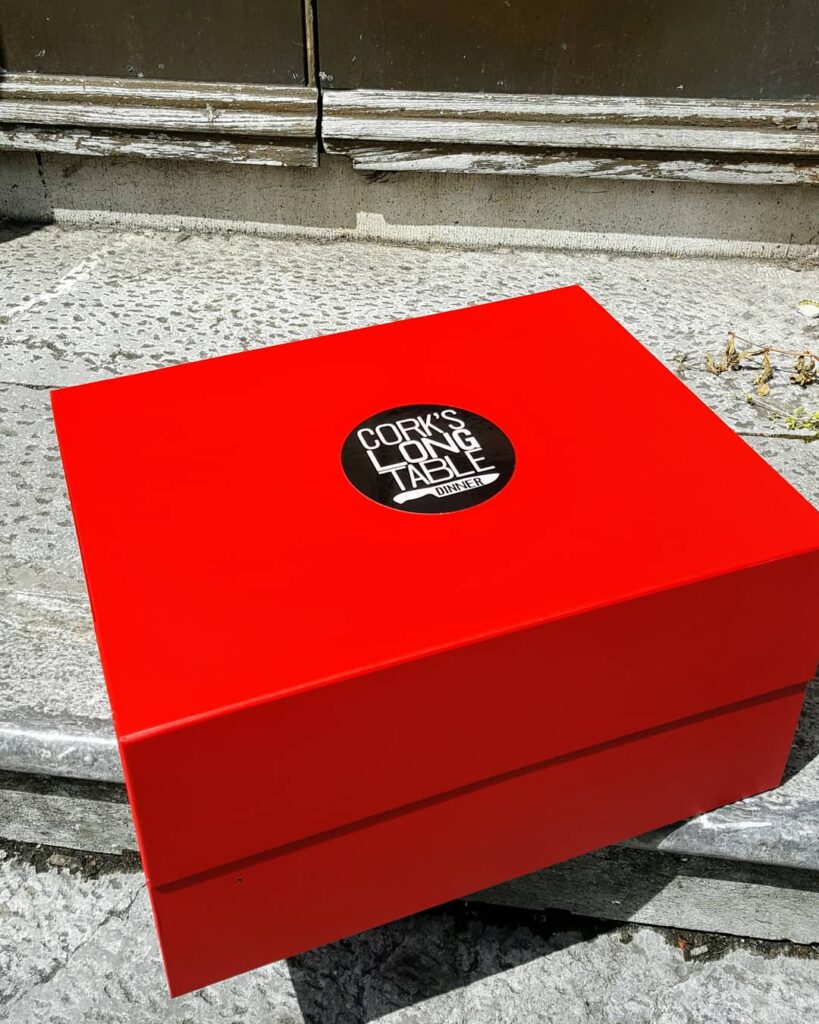 Collection from the Imperial Hotel on the longest day of the year was a joy, a brief chance to see familiar faces and visit an actual city after months of country living. I didn't stay too long: lugging the swanky – and rather heavy – red box of delicious possibilities to my nearby car, I was keen to see what lay inside. I wasn't the only one. By the time I got home the girls were starved, ratty – and not very patient with my careful unboxing.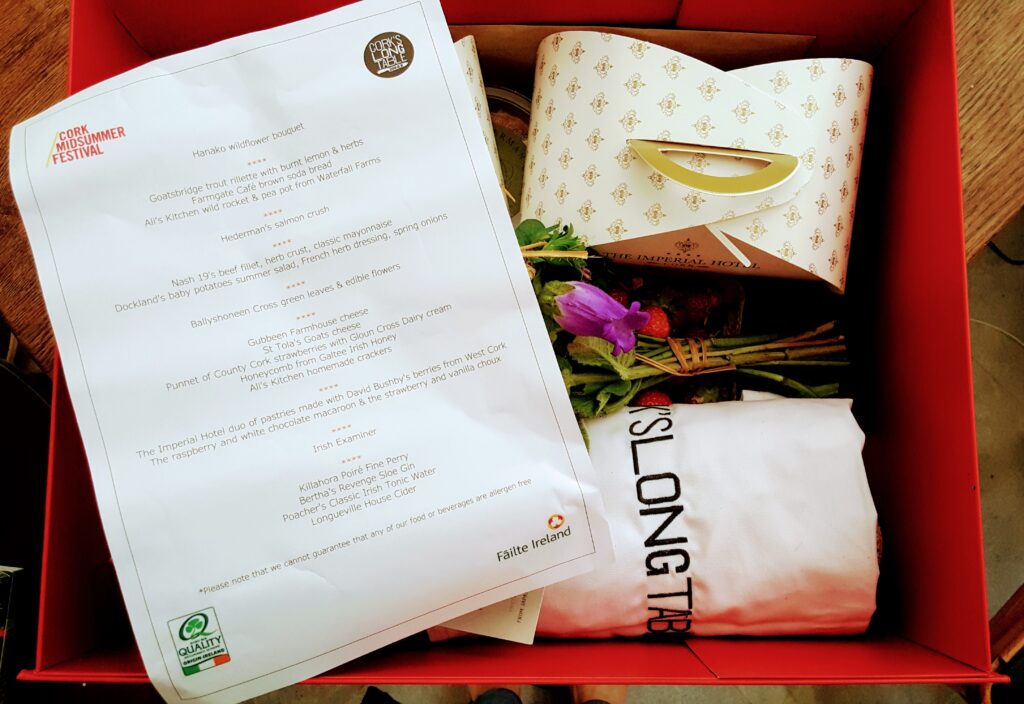 So, did it work? Well, a picnic outside – with cranky children – on a cloudy, chilly day was never going to be a good idea, but there's always the kitchen table. Delving into the layers beneath the red lid revealed a wildflower bouquet from Hanko alongside a collection of boxed up pink pastries, a wedge of Gubbeen and aromatic strawberries with Gloun Cross double cream. There were Ballyshoneen Cross salad leaves and a little log of fudgy St Tola ash-rolled goat cheese, bread wrapped in a Long Table apron, several mysterious pots to be investigated and local drinks: Bertha's Revenge sloe gin + Poachers Tonic, Longueville House cider, Killahora Poiré. Unleashed from the box, food sprawled across the table. I abandoned the camera – no time to plate up! – and dove in.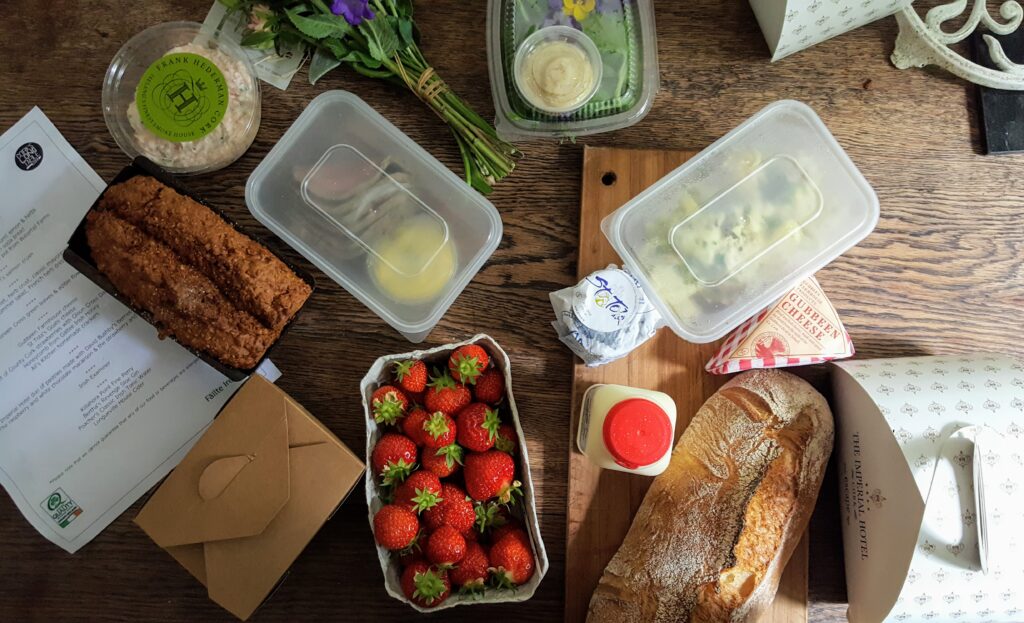 We were driven by greed rather than restaurant logic. The carefully thought out menu was abandoned as we cheerfully went à la carte: hunks of crusty Arbutus bread were layered with Nash 19's classic mayonnaise, thin slices of juicy beef fillet and a peppery rocket and pea dip from Ali's Kitchen. Thick tranches of Farmgate Café brown soda bread were the base for a rich and buttery Goatsbridge trout rillette, cut with burnt lemon. Creamy Hederman's smoked salmon crush was dolloped on salad leaves with some Dockland baby potato salad, drizzled with more of that green dip, and we feasted.
Pause. Skip the cheese. For now.
The picnic was meant for two people but the girls were delighted to discover that the Imperial Hotel's pastry chef had included four pastries – two x two diners`- or one each for four. They grabbed the strawberry and vanilla choux, handed us the raspberry and white chocolate macaroons – made with David Bushby's finest West Cork berries – we added extra strawberries and a few spoonfuls of that decadently rich double cream, and for a time all was quiet and content.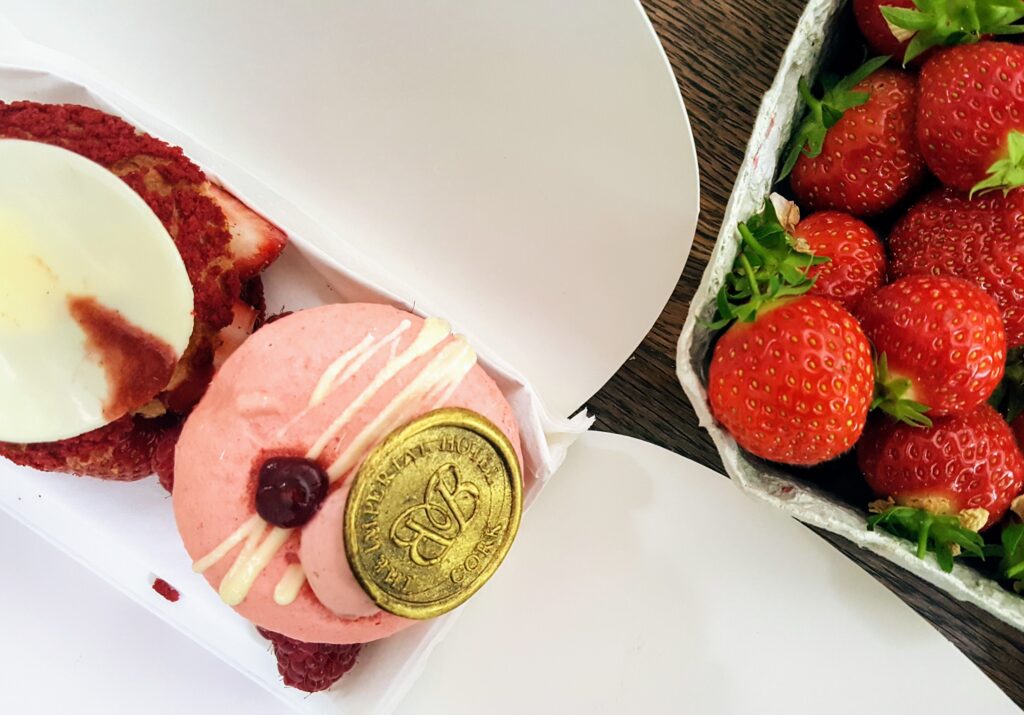 It was the first meal that I hadn't cooked since the start of the lockdown. It was a meal that celebrated brilliant producers, where I felt connected to the much-missed restaurants of Cork: food came from The Imperial Hotel, Farmgate Café, Ali's Kitchen, Dockland Restaurant and Nash 19, with whole thing being packed with the help of Crawford & Co, Jacobs on the Mall and Electric.
Food. Bringing people together. Even when we're all apart.
(Plus, there were leftovers for the next week's lunches. And a few drinks as well.)