Movie food: Beauty and the Beast + cheese soufflé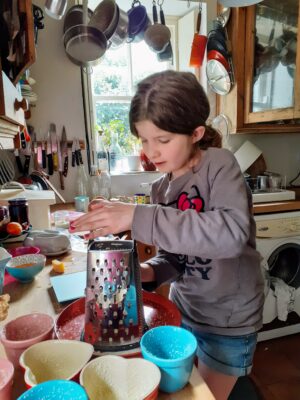 The recent feature that I wrote for the Irish Examiner on cooking with kids, using films as inspiration, went through a couple of drafts when we had to change a few films. Plus, I can rarely resist overwriting and the initial submission may have been a bit long. Ahem.
This cheese soufflé recipe didn't make the cut but it's definitely worth trying – lots of kitchen skills to master with the kids plus soufflé for supper!
I've specified mature cheddar cheese below but have to say that it's especially good when made with Coolfin Gruyére-style cheese from Kylemore Farmhouse Cheese in Co Galway. Being able to buy large chunks of this online was one of the highlights of lockdown. Other great Irish cheeses that you can use in this recipe – and buy online – are Hegarty's cheddar or Tempegall, Bó Rua from Fermoy and I'd be interested to see how it works with St Tola hard goat cheese or Rockfield sheep cheese from Velvet Cloud in Mayo. Also check out Sheridans Cheesemongers for a great online selection of Irish farmhouse cheese.
Beauty and the Beast + cheese soufflé
You might know Be Our Guest from the 1991 adaptation or you might be a fan of it in the 2017 live action reboot but one thing is certain: the performance of this show stopper by Lumière and Mrs Potts, complete with Busby Berkeley-style high kicking cutlery is a lavish showcase of food:
Beef ragout, cheese soufflé
Pie and pudding en flambé.
We quickly dismissed the beef ragout – too wintery, as was the pie – and pudding en flambé is for Christmas Day so we decided on cheese soufflé. There's a lot of prep – and skills – in this: making a basic sauce or béchamel, preparing ramekins, grating cheese, separating eggs, folding stiffly beaten egg whites into the sauce. "Not my favourite," said the Small Girl. "All that work for something we didn't even like," echoed Little Missy. "Pass your dishes," I said as I enjoyed soufflé heaven.
Cheese soufflé
It's not for everyone but those who like it, love it. Serves 6.
40g butter + extra for buttering the dishes
20g parmesan, finely grated
40g plain flour
300ml milk
4 large eggs
Pinch freshly grated nutmeg
Pinch cayenne pepper
100g mature cheddar cheese, finely grated
Salt, pepper
Preheat oven to 200C (fanbake 180C) and heat a baking sheet. Use the extra butter to thoroughly coat the inside of 6 small ovenproof ramekins and sprinkle with parmesan. 
Melt the butter in a heavy based saucepan over a medium heat, mix in the flour then cook and stir for 1-2 minutes until the mixture starts to smell toasty. Take off the heat. Gradually whisk in the milk until smooth then return to the cooker, stirring regularly, until the sauce comes to the boil. Simmer for 3-4 minutes then remove from the heat. 
Separate the eggs, putting the whites into a large spotlessly clean bowl. This gets interesting with small people helping. Whisk the nutmeg, cayenne pepper and cheese into the sauce, followed by the egg yolks and season well. 
Whisk the egg whites with a pinch of salt until light and able to hold a stiff peak when you lift the whisk. Stir a few tablespoons into the cheese mixture to loosen it then carefully – you don't want to lose all that air – fold in the rest with a large metal spoon. 
Divide between the prepared ramekins and bake for 8-12 minutes until well risen and golden. Serve immediately with a crisp green salad, dressed simply with a spritz of lemon juice.     
More films and food
Read: Irish Examiner | Movie night with kids…in the kitchen
Movie food: Beauty and the Beast + cheese soufflé 
Movie food: Harry Potter + treacle tart