Read: The Echo | A guide to school lunches
Got the lunchbox blues? I wrote a guide to school lunches for The Echo's Back to School WoW section this week. It's been a long, hard six months and although I know my ladies can't wait to see their friends and teachers, there seems to be a lot to negotiate en route to that point. Good luck to everyone with the re-entry into school life.
This is the return to school like no other. After six months of homeschooling (there's a misnomer if ever there was one) and summer holidays (ha!), there's a real sense of relief that comes with restoring a regular routine. But with the good, comes the bad: it's back to dreaded school lunches.
During all those long, stressful lockdown days, there was one small, tiny victory: no school lunches to make. On the other hand, there was an increased demand on the day-long kitchen. Working from home while wrestling at the kitchen table with school books, online logins and recalcitrant children was one thing, but what I couldn't understand was how much extra food they seemed to need. The child who came home with half of her lunchbox untouched had suddenly turned into an all-consuming, all-day-long snacking monster. That said, it did give us a chance to try out different things for lunch. Now we're back, and lunchboxes are going to be so much better. We just need a plan.

THE PLAN

Before school
Trial runs. In the run up to school, get the kids involved in making their lunches at home. Do a fridge raid and pull all kinds of everything out, salad bar stylee, to see what combinations they come up with. You may be surprised.
Write these ideas down. You'll never remember that particular child's favourite cracker / cheese combo at 7.30am on a grim Tuesday in November so put it in writing and stick it up on the inside of the food cupboard where the details won't disappear.
Lunchbox shopping. Get the kids to pick out the lunchbox that "feels right" for them, making sure that they can a) open it and b) that it will fit everything that they need. I swear by the Sistema brand which, much to my girls' disgust, are the lunch boxes that live forever. They're also available in lots of different sizes and colours.
Avoid mess.To divide up various bits and pieces of food – no one wants their blueberries smooshed into grated cheese – I use mini food containers (approx 5cm wide) that are easy to pick up cheaply from euro shops. It's all very bento-style, but on a small budget.
Supermarket sweep. We generally do this right before school starts. Take the children into the supermarket (if that's possible) and ask them to pick out a few different things – within certain sensible parameters! – that they want for lunch. They often come up with interesting ideas.
Label everything. Make sure all lunch boxes and water bottles are properly labeled with your child's name.
Wash up! Now, more than ever before, this is vitally important: make sure kids are in the habit of washing their hands before eating lunch.
School rules. As well as having healthy eating policies which discourage chocolate, crisps and sweets, many schools are also nut free so make sure you check this out in advance. Nothing worse than having a Nutella addict that suddenly realises that she can't bring it as a constituent part of her lunch. Don't mess with the school system: you don't want to be known as that parent whose child gets told off for trying to smuggle in a treat.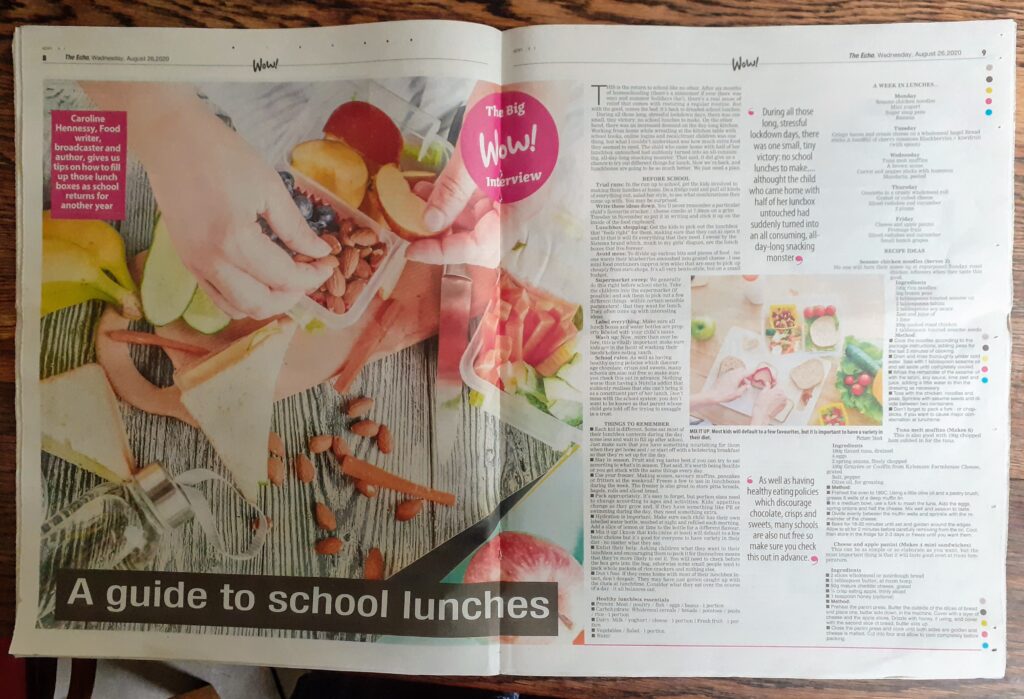 Things to remember
Each kid is different. Some eat most of their lunchbox contents during the day, some less and wait to fill up after school. Just make sure that you have something nourishing for them when they get home and / or start off with a bolstering breakfast so that they're set up for the day.
Stay in season. Fruit and veg tastes best if you can try to eat according to what's in season. That said, it's worth being flexible or you get stuck with the same things every day.
Use your freezer. Making scones, savoury muffins, pancakes or fritters at the weekend? Freeze a few to use in lunchboxes during the week. The freezer is also great to store pitta breads, bagels, rolls and sliced bread – butter the bread while it's frozen and it will defrost in time for lunch.
Pack appropriately. It's easy to forget, but portion sizes need to change according to ages and activities. Kids' appetites change as they grow and, if they have something like PE or swimming during the day, they need something extra.
Hydration is important. Make sure each child has their own labelled water bottle, washed at night and refilled each morning. Add a slice of lemon or lime to the bottle for a different flavour.
Mix it up! I know that kids (mine at least) will default to a few basic choices but it's good for everyone to have variety in their diet – no matter what they say.
Enlist their help. Asking children what they want in their lunchbox and encouraging them to pack it for themselves means that they're more likely to eat it. You will need to check before the box gets into the bag, otherwise some small people tend to pack whole packets of rice crackers and nothing else.
Don't fuss. If they come home with most of their lunchbox intact, don't despair. They may have just gotten caught up with the chats at lunchtime and not been able to concentrate on their food. Consider what they eat over the course of a day – it all balances out.
Healthy lunchbox essentials
Protein:

Meat / poultry / fish / eggs / beans – 1 portion 

Carbohydrate:

Wholemeal cereals / breads / potatoes / pasta / rice – 1 portion

Dairy:

Milk / yoghurt / cheese – 1 portion

Fresh fruit 

– 1 portion

Vegetables  / Salad

– 1 portion

Water

A week in lunches

Monday
Sesame chicken noodles (recipe below)
Mini yogurt
Sugar snap peas
Banana
Tuesday
Crispy bacon and cream cheese on a wholemeal bagel
Bread sticks
A handful of cherry tomatoes
Blackberries + kiwifruit (with spoon)
Wednesday
Tuna melt muffins (recipe below)
A brown scone
Carrot and pepper sticks with hummus
Mandarin, peeled
Thursday
Omelette in a crusty wholemeal roll
Grated or cubed cheese
Sliced radishes and cucumber
2 plums
Friday
Cheese and apple panini (recipe below)
Fromage frais
Sliced radishes and cucumber
Small bunch grapes
Recipe ideas 
Sesame chicken noodles
No one will turn their noses up at repurposed Sunday roast chicken leftovers when they taste this good. Serves 2. 
100g rice noodles
50g frozen peas
2 tablespoons toasted sesame oil
2 tablespoons tahini
2 tablespoons soy sauce
Zest and juice of 1 lime
200g cooked roast chicken
1 tablespoon toasted sesame seeds
Cook the noodles according to the package instructions, adding peas for the last 2 minutes of cooking. Drain and rinse thoroughly under cold water. Toss with 1 tablespoon sesame oil and set aside until completely cooled.
Whisk the remainder of the sesame oil with the tahini, soy sauce, lime zest and juice, adding a little water to thin the dressing as necessary. Toss with the chicken, noodles and peas. Sprinkle with sesame seeds and divide between two containers. Don't forget to pack a fork – or chopsticks, if you want to cause major consternation at lunchtime.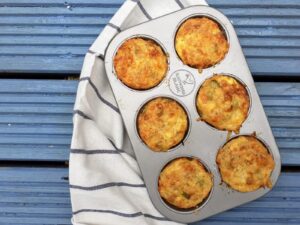 Tuna melt muffins
This is also good with 100g chopped ham subbed in for the tuna. Makes 6.
160g tinned tuna, drained
4 eggs
2 spring onions, finely chopped
100g Gruyère or Coolfin from Kylemore Farmhouse Cheese, grated
Salt, pepper
Olive oil, for greasing
Preheat the oven to 180C. Using a little olive oil and a pastry brush, grease 6 wells of a deep muffin tin.
In a medium bowl, use a fork to mash the tuna. Add the eggs, spring onions and half the cheese. Mix well and season to taste.
Divide evenly between the muffin wells and sprinkle with the remainder of the cheese.
Bake for 18-20 minutes until set and golden around the edges. Allow to sit for 2 minutes before carefully removing from the tin. Cool, then store in the fridge for 2-3 days or freeze until you want them.
Cheese and apple panini
This can be as simple or as elaborate as you want, but the most important thing is that it will taste good even at room temperature. Makes 4 mini sandwiches.  
2 slices wholemeal or sourdough bread
1 tablespoon butter, at room temp
50g mature cheddar cheese, grated
¼ crisp eating apple, thinly sliced
1 teaspoon honey (optional)
Preheat the panini press. Butter the outside of the slices of bread and place one, butter side down, in the machine. Cover with a layer of cheese and the apple slices. Drizzle with honey, if using, and cover with the second slice of bread, butter side up.
Close the panini press and cook until both sides are golden and cheese is melted. Cut into four and allow to cool completely before packing.