Movie food: Harry Potter + treacle tart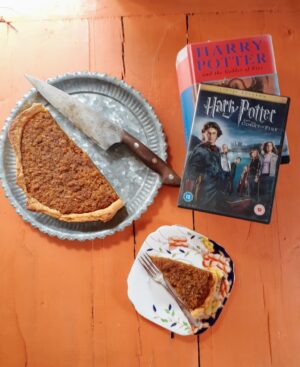 Harry Potter + treacle tart
While it's difficult to make out if treacle tart actually appears in the Harry Potter films – there's a lot of magical food on those groaning tables – it's such an iconic dish for HP-obsessive Little Missy that she insisted on us including it.
Making simple pastry from scratch is a skill well worth cultivating, opening up a whole world of wonderful pies, pasties, sausage rolls and jam tarts.
Treacle Tart
This is very sweet – even the sweet-toothed Little Missy agreed – so it's best served in small slices. Serves 8, generously. 
Pastry
175g plain flour
Pinch salt
115g butter, cold and cubed
40-60ml ice cold water, mixed with a squeeze of lemon juice
Filling
2 eggs, beaten
60g butter
400g golden syrup
2 tablespoons milk
Zest and juice of ½ lemon
½ teaspoon salt
125g fresh breadcrumbs
Combine the flour, caster sugar and salt in a mixing bowl. Rub the butter into the flour with your fingertips until you have chunks the size of large breadcrumbs. Add the water gradually, mixing the dough until just combined. Shape into a disc and refrigerate for at least 15 minutes.
Preheat the oven to 200C (180C fanbake). Roll out the pastry and use it to line a 25cm loose-bottomed tart tin. Prick with a fork, cover with a sheet of greaseproof paper and weigh down with baking beans (or rice, or dried chickpeas). Bake for 12 minutes, remove the greaseproof paper and beans, then brush the pastry with a little of the beaten egg for the filling and return to the oven for a further 8 minutes until golden.
Reduce the oven to 170C (150C fanbake).
Melt the butter and golden syrup together over a low heat. Remove from the heat, mix in the milk and, when cool enough, add the rest of the beaten eggs, lemon zest and juice and the salt, mixing well.
Spread the breadcrumbs evenly into the pastry shell then pour over the syrupy mixture, making sure that everything is well soaked. Bake for 30-35 minutes until the filling is just set and golden brown around the edges. Cool before slicing and serving with crème fraîche or ice cream.
More films and food
Read: Irish Examiner | Movie night with kids…in the kitchen
Movie food: Beauty and the Beast + cheese soufflé 
Movie food: Harry Potter + treacle tart