Slow cooker whole spiced cauliflower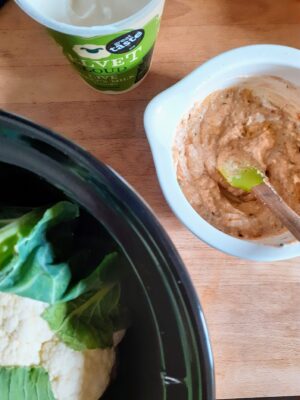 While I do love a whole roast cauliflower, I'm also a lazy cook and don't always enjoy the palaver of first steaming and then roasting it. This is one of those times when the slow cooker comes to the rescue: just slather your cauli liberally with some good flavours, turn the slow cooker to high and walk away. After approximately three hours – this very much depends on what size of cauliflower you start with – you have a deliciously spiced cauliflower dinner that can equally work as a side dish or the main course. We like to eat this – in a very cross-cultural way – with Marcella Hazan's homemade tomato sauce, brown rice and some toasted nuts, or dukkah, for crunch sprinkled on top.
Slow cooker whole spiced cauliflower
I used Velvet Cloud sheep's milk yogurt and a Madras spice blend from Green Saffron – both available online – but feel free to substitute a quality Irish natural yogurt like Glenilen and your own favourite spice blend. Serves 2 as a main course, or 4 as a side dish. 
1 medium-sized cauliflower
2 tablespoons Green Saffron's Madras spice blend
1 tablespoon vegetable oil
100ml Velvet Cloud natural yogurt
Sea salt, freshly ground black pepper
Trim the base of the cauliflower so that it sits comfortably in the bowl of the slow cooker. If it still has fresh-looking leaves, keep them on. Mix the spice blend, vegetable oil and natural yogurt together in a small bowl, season well with salt and pepper, then smear this mixture all over the cauliflower.
Sit the cauliflower into the slow cooker, cover with the lid and cook on high for approximately 3 hours (or low for approximately 5 hours) or until tender to the centre when tested with the point of a knife.
Break into pieces and serve with homemade tomato sauce, extra dollops of yoghurt and toasted nuts.
More cauliflower:
2019 Read: Journal.ie | 6 vegetarian-friendly alternatives to the classic Sunday roast – Pot roast cauliflower with spiced butter
2006 Ingredient experiments – Pomegranate molasses: Bulgur and Cauliflower Salad with Pomegranate Molasses Dressing
2005 An Indian Feast, finished: Cauliflower with Roasted Cumin