International Women's Day 2021: Celebrating Women in Irish Food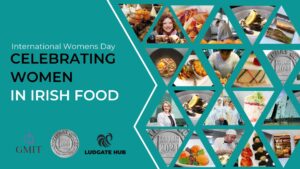 For International Women's Day 2020 we gathered in a room at GMIT. We didn't know it then, but it was to be the last public in-real-life event for some time. Schools closed that Thursday and life, normal life, came to a crashing halt as the country went into the first lockdown.
We knew Covid was coming; the airwaves were hopping with speculation, sanitiser was coming into everyday use, hugs were replaced in Galway by elbow salutes – and nobody had come around taking virtual meetings very seriously. Things have changed. But some things remain the same and, although we can't come together in person for International Women's Day 2021, Sally McKenna of McKenna's Guides and Jacinta Dalton of GMIT (in association with the Ludgate Hub in Skibbereen) are keeping the show on the road with a celebration of women in Irish food.
This virtual event is taking place on Monday 8 March, from 11am to 1pm, with three panel discusions and 10 breakout rooms where we will be talking about resilience, regeneration and`recovery in a time of Covid.
Tickets are free and available now on Eventbrite.
At the event last year I moderated a panel of amazing women in farming: Maria Flynn from Ballymakenny Farm, Eva Milka of Gaelic Escargot, Aisling Flanagan from Velvet Cloud Sheep Milk and Yogurt, Siobhan ní Gharbhaith from St Tola Irish Goat Cheese and Bumblebee Flower Farm's Mags Riordan.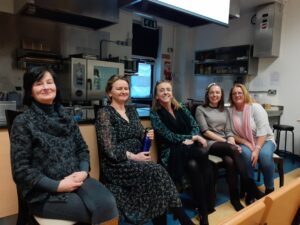 These ladies, farmers all, spoke about doing something radical: making a living on the land by focusing on better, not bigger, by producing edible flowers, cheese, yoghurt, snails and potatoes. They were my #WomeninFarming dream team – and, for 2021, we're getting the crew back together! At 11.05am on Monday, we're gathering virtually for The Farm Revisited.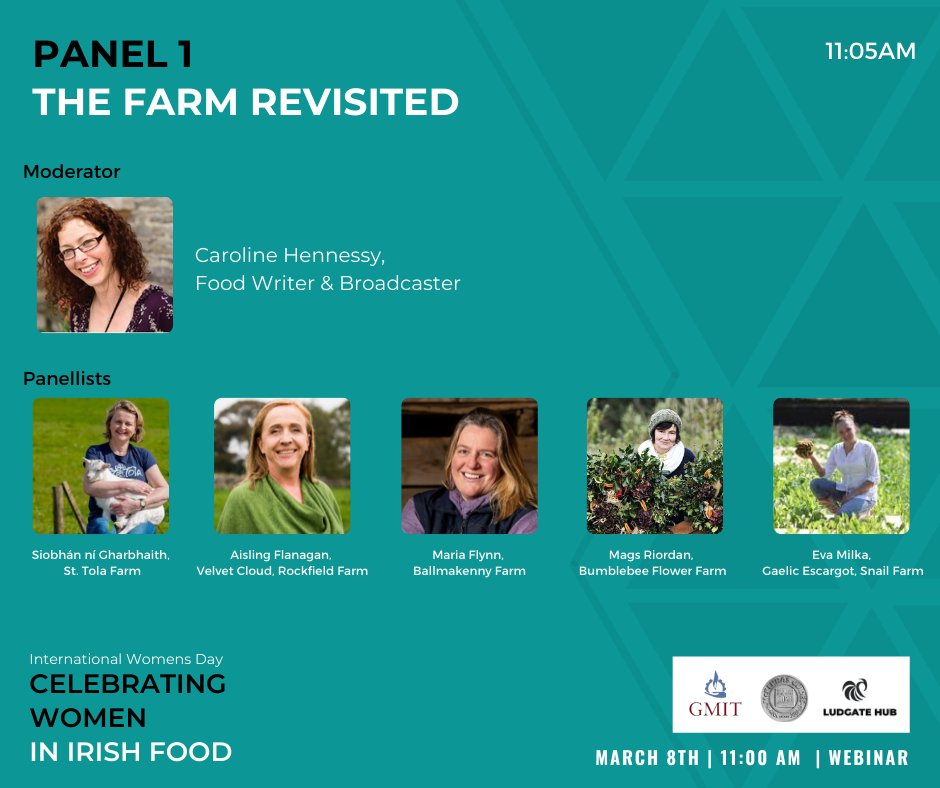 This will be followed by a panel at 11.35am talking about resilience, with moderator Leslie Williams, along with Aishling Moore from Cork's fish-focused Goldie restaurant, Mary Grealish of The King's Head in Galway, Drummond House garlic and asparagus grower Marita Collier and publican / beer writer / lecturer Judith Boyle.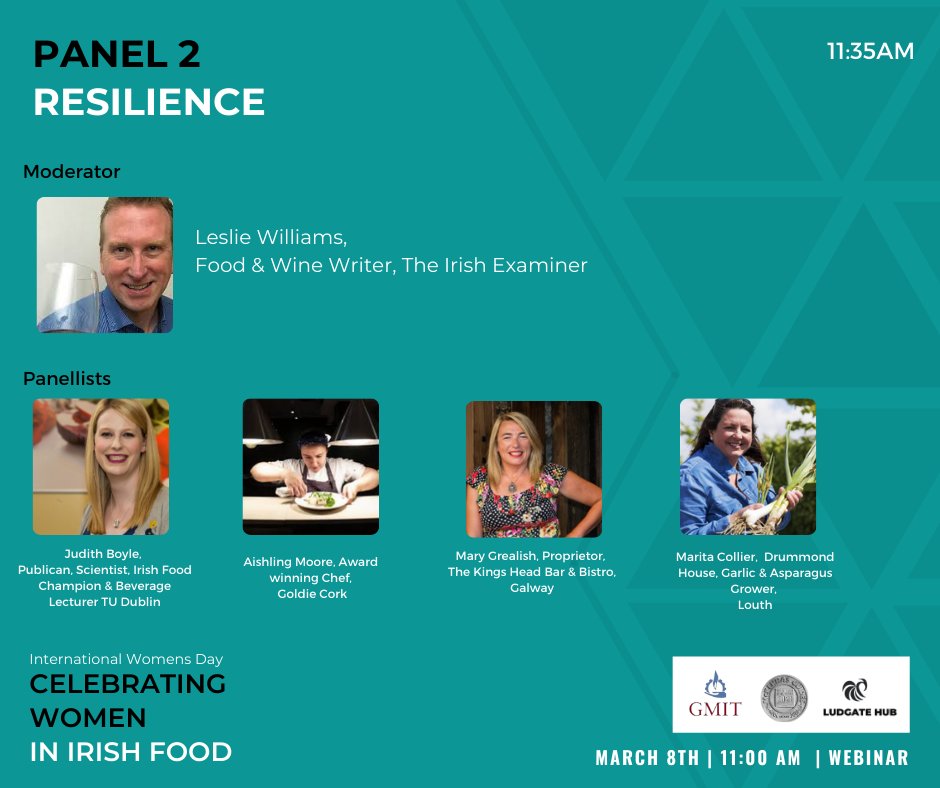 The panel on re-building, with Olivia Duff as moderator, includes hotellier Elaina Fitzgerald (who I worked with in my first ever job when I was a disaster of a 16-year-old waitress!), Gina Murphy of Hugo's Restaurant in Dublin, chocolatier and pastry chef Grainne Mullins and Dervla Conlon of Pudding Row in Sligo, whose Comfort Kits have been one of the hits of lockdown.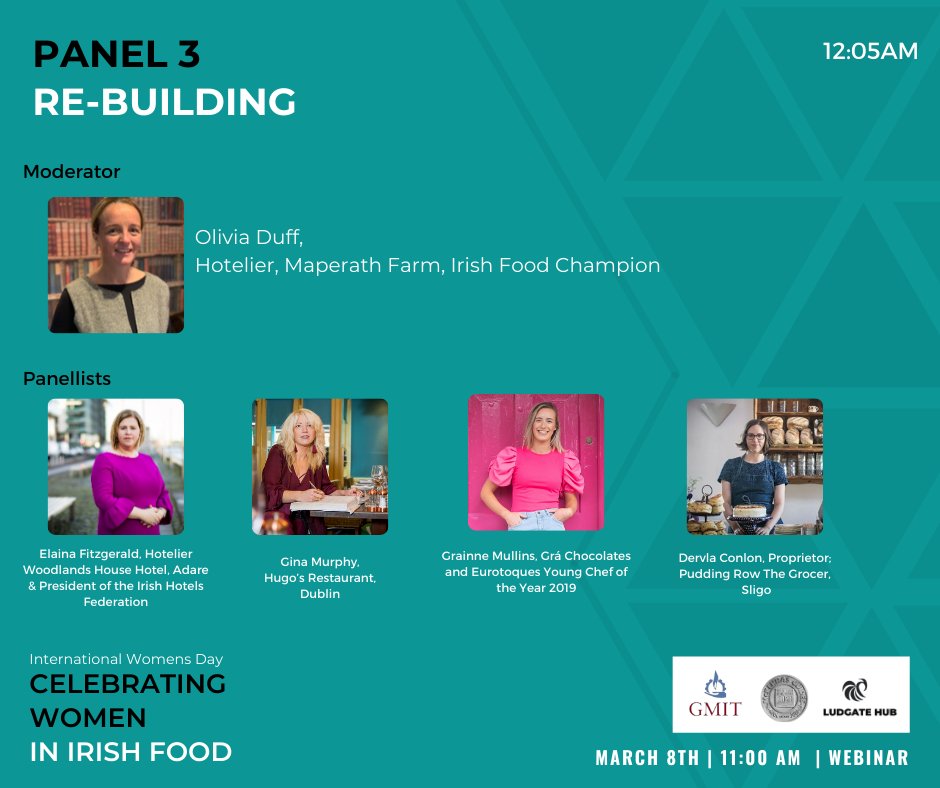 There are also 10 break out rooms – the problem is to choose just one!
Vitamin Sea: The New Drug – Susan Steele
Family First – Birgitta Curtin
Coping with Karen – 

Ali

 

Dunworth

Cancel Culture – John McKenna
Health – Sinead O'Halloran
Has Covid Killed the Irish pub – Diarmuid Ó Conghaile
Irish Food – Ruth Healy
Credit Where it's Due – Dee Laffan
Every Day is Women's Day – Sharon Noonan
Lockdown Learning – Cait Noone
Make yourself a cuppa and come join us on Monday from 11am. Here's that ticket link again: Eventbrite.