Trifle-misu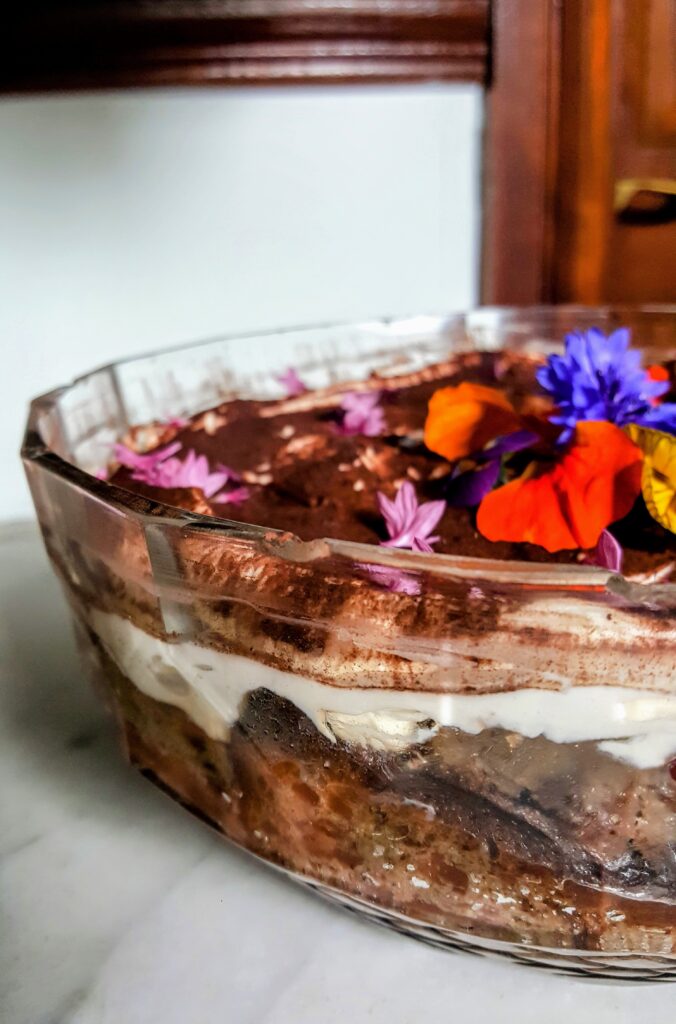 Trifle was always a family fixture. Christmas time? Make trifle to accompany the Christmas pudding. Easter? Wouldn't be complete without a trifle. A large get together? Definitely a trifle occasion.
It's a pity that it was always terrible.
Our trifle bowl – all the aunts had their own, easily recognisable one, which was useful for family gatherings – would be taken down from the tall press where it normally lived, holding bills and other scraps of paper. Washed and polished, it played host to a base of dusty trifle sponge or jam swiss roll, had cooking sherry waved in its general direction and a tin of fruit cocktail (without the cherries, which I always snaffled) tipped on top. Strawberry jelly. Whipped cream. I took it upon myself to add hundreds and thousands.
Some of the other aunt's trifles had Bird's custard instead of cream. Some substiuted tinned peaches for the dreaded fruit cocktail. There was occasionally a bit of craziness with sliced bananas. One aunt, a Pioneer, was noted for her liberal hand with the alcohol in the base. The whiskey sloshing around that trifle bowl would knock you!
I made many trifles – they're quick to assemble and were uniformly popular, especially with my hoards of boy cousins and uncles – but ate none.
Then last year, during the first lockdown, I started making and dropping this trifle-misu to my folks, always saving some for myself. It's a Euro-pudding of a dessert, a mixture of Irish-style, alcohol-soaked trifle and Italian mascarpone-rich tiramisu. The base is cake, often almond or chocolate, and soaked in amaretto or Tia Maria. Always gluten free, for the coeliac parents. A layer of raspberries or amarena cherries, topped with a mixture of sweetened mascarpone and whipped cream. Sifted cocoa for bitter contrast. Edible flowers for colour.
Made for family to share. One day I even heard Dad say that he woudn't mind if lockdown continued as long as this trifle kept appearing on the doorstep.
Coming into the summer, Mum handed over her trifle bowl. It's been well used ever since.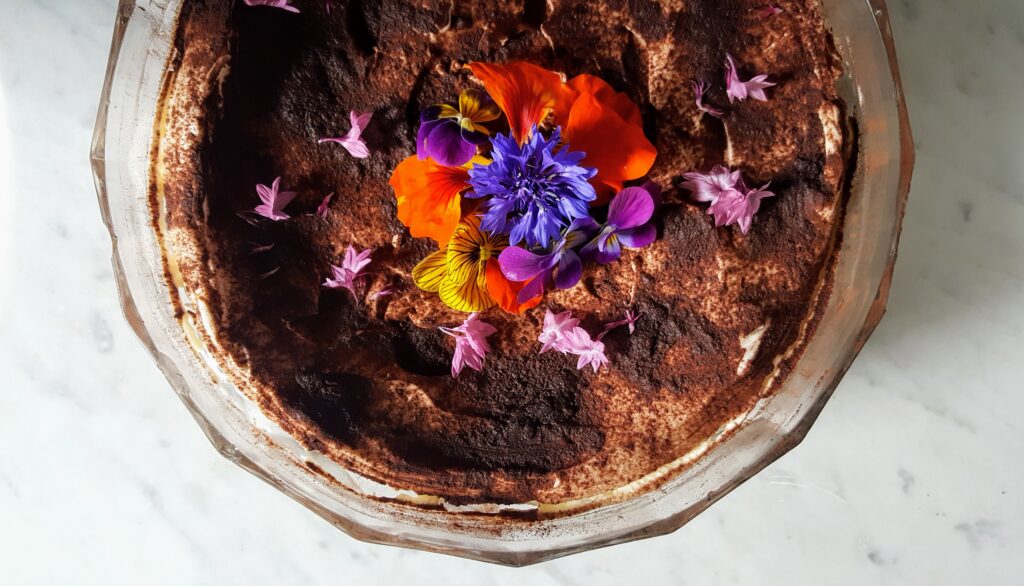 Chocolate and raspberry trifle-misu
This is the kind of pull-together-ahead-of-time dessert that you can play around with. The chocolate and raspberry variation is a perennial favourite but try it with almond cake or leftover brownies. Use a jar of amarena cherries, and all their juices, instead of the raspberries or sub in some amaretto for the coffee liqueur. Serves 4-6, depending on the trifle appetite!
200g chocolate cake – homemade is always best, GF if you have coeliacs in the house
350g raspberries, divided
75ml coffee liqueur eg Tia Maria, Kahlua
1 tablespoon caster sugar
250ml cream
250g mascarpone
2 tablespoons icing sugar
1/2 teaspoon vanilla extract
2 tablespoons cocoa
Cut the cake into 2.5cm cubes and arrange in the base of a trifle bowl. Mash 200g raspberries with the coffee liqueur and caster sugar to get the juices running. Dollop over the cake, making sure that it is all well soaked. Sprinkle the remaining 150g raspberries on top.
Using a handheld whisk, mix the cream, mascarpone, icing sugar and vanilla together until they are well combined and softly whipped. Pour over the top of the raspberries and smooth off. Sift the cocoa over the cream layer.
Cover and chill for at least 8 hours or overnight before serving.