Spelt pastry galette with mushrooms, asparagus & goat cheese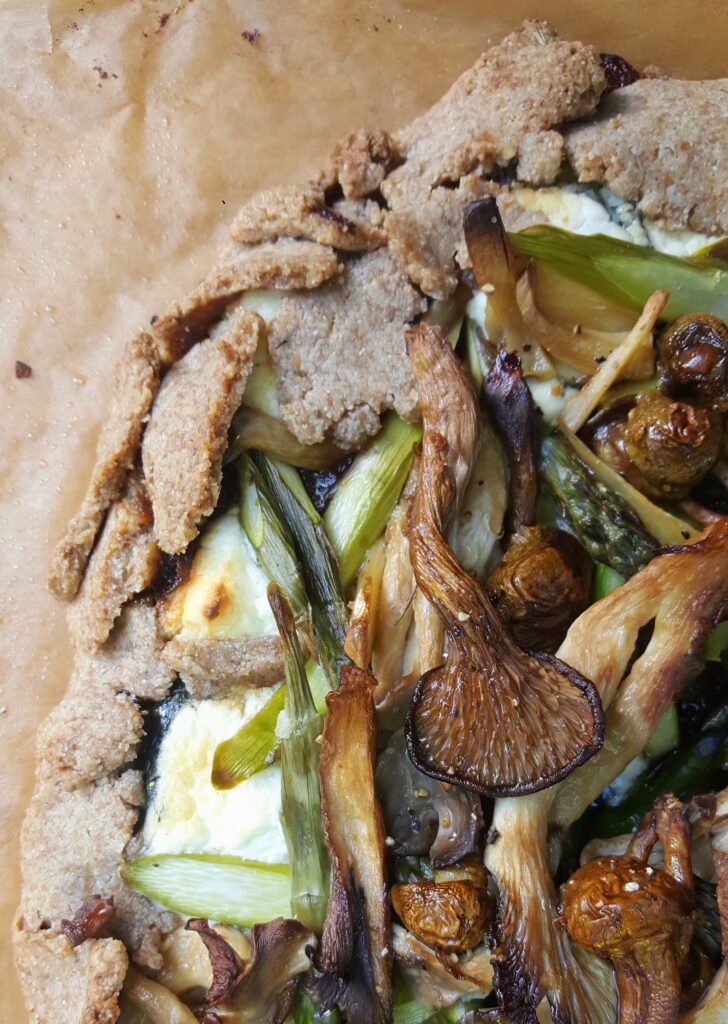 Before the asparagus season – oh, so short in Ireland but so, so sweet – disappears, it must be celebrated. Slice and pile it on top of a simple nutty-flavoured spelt pastry base that's already pre-loaded with carmelised onions and goat cheese, top with mushrooms and bake until everything is crisp, bubbling and delicious.
For years, my generous green-fingered, asparagus-growing neighbours left bags of big fat asparagus spears hanging on the door knob. Now, for best results, I seek out asparagus from Irish growers like Gort na Nain, Drummond House (their garlic scapes would work well here too) and Grá Farm. Pair the asparagus with mushrooms from Ballyhoura Mountain Mushrooms, soft goat cheese from St Tola and tuck the whole lot into the easiest hot water pastry, made with Louth-grown and milled Dunany wholemeal spelt flour, for a fabulous feast of Irish food.
Spelt pastry galette with mushrooms, asparagus & goat cheese
This pastry, inspired by Donna Hay, is made in minutes and doesn't have to rest before you use it. In fact, it is best used immediately while still warm as that's when it's most pliable. Serves 6.
Mushrooms
200g mixed mushrooms, torn into bite-sized pieces
2 tablespoons olive oil, plus extra for drizzling
Sea salt, freshly ground black pepper
Hot water pastry
100g butter, cut into cubes
80ml (1/3 cup) water
210g wholemeal spelt flour
Pinch salt
Filling
3 tablespoons carmelised onions or carmelised onion chutney
150g St Tola ash soft goat cheese, roughly chopped
250g asparagus, trimmed and chopped into 5cm pieces at an angle
5-6 sprigs fresh thyme, leaves picked
Beaten egg, to glaze
Preheat oven to 200°C (400°F). Toss mushrooms with olive oil and spread across a baking tray. Season well and roast in oven for 10 minutes. Allow to cool.
To make the hot water pastry, bring butter and water to the boil in a medium saucepan over a high heat. Remove from the heat, add the flour and salt and mix well. Tip pastry onto a worktop and knead to bring it all together – still warm, it feels deliciously smooth and silky – then roll it out on a large sheet of greaseproof paper into a rough circle, until approximately 30cm across.
Spread carmelised onions in the centre of the pastry, leaving a 2cm border. Sprinkle with goat cheese, asparagus and roasted mushrooms, along with any juices. Drizzle with a little olive oil, then sprinkle with thyme. Fold the edges of the pastry over the filling, brush the pastry with beaten egg and season with sea salt and fresh ground pepper.
Bake for 30-35 minutes, or until the pastry is crisp and the fillling bubbling.