Irish Food Writing Awards finalist!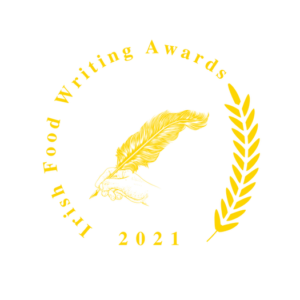 We had guests. That's my excuse. A schoolfriend, her husband and their three kids came to visit, parking up a campervan outside the house and taking me offline for 24 hours. There was baking – some chocolate chippies and a chocolate stout cake – and cooking (a vat of homebaked beans with Gubbeen ribs one night, a big pan of beef stew as the weather turned drear) and lots of sitting around the table, talking and eating and drinking and catching up. What with pandemics and the like, it had been quite a while.
The next morning, after their departure, I got back to work only to discover that I'd missed some messages on social media:
Big congratulations to the finalists in Online Food Writing Award; @eating_ideas @ProperFood_ie @GastroGays @IrishFoodGuide @Bibliocook @LillyHiggins and Susan Jane White✨🍴
This award is judged by @TVsAndyClarke & @AdamCoghlan and is sponsored by Pestle+Mortar @FoodsGalmere

— The Irish Food Writing Awards (@irish_writing) August 18, 2021
I've been playing catch up ever since! I'm thrilled to be amongst this sterling list of finalists, with friends, Irish Food Writers' Guild colleages and with new discoveries. And that's the joy of the Irish Food Writing Awards – there are lots of new writers and broadcasters to discover, alongside a chance to renew your acquaintance with others who have been working in these areas for many years. Take the time to check out this list and you'll see what I mean:
Irish Food Writing Awards: Online Food Writing Finalists
Lynne Crowther: Eating Ideas
Katia Valadeau: Proper Food
Russell Alford and Patrick Hanlon: GastroGays
Zack Gallagher: Irish Food Guide
Caroline Hennessy: Bibliocook
Susan Jane White: Susan Jane White
Lilly Higgins: Lilly Higgins
I started Bibliocook back in March 2005, becoming one of the first of the Irish food bloggers, and have continued to write here for the last 16 years. A lot of things have changed, but Bibliocook has been constant through moving cities, houses and hemispheres, raising small children and turkeys, going back to cookery school, freelancing, writing books and working at beer festivals. It's been a time of discovering kinship with people with a similar passion for good food, wonderful restaurants and small Irish producers, and also having the opportunity to work with new colleagues, particularly in my role as Chair of the Irish Food Writers' Guild.
In short, Bibliocook has been the focus for my entire career in food and it's lovely to celebrate it.
Many thanks to judges Andy Clarke and Adam Coghlan of Eater London, along with award sponsors Pestle + Mortar Sauces. I've run awards and know how important it is to have a) a quality team of judges and b) sponsors who get what you're doing. Also a big thank you and well done to Suzanne Campbell and Paul O'Connor, the hard working team behind the Awards, who took the idea of shining a light on Irish food writing, broadcasting and social media and ran with it – despite a little situation called a pandemic happening.
Visitors aside, keep an eye on the Irish Food Writing Awards social media – Instagram and Twitter – to see all the shortlisted Irish food writers and broadcasters. There's a lot of us out there!