Irish Food Writing Awards 2021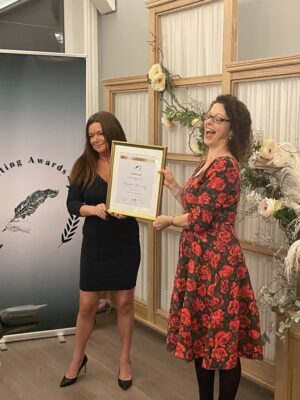 Stunned. Surprised and delighted.
Writing this on the train home and I still can't quite believe it.
Last night's Irish Food Writing Awards was always going to be a wonderful event. Any opportunity to be together with friends and colleagues is special but after 18 long months of Zoom and emails and WhatsApp, this was a much anticipated gathering.
I was very proud to have been shortlisted in such a strong category with Lynne of Eating Ideas,
Proper Food's Katia, the GastroGays, Zack from Irish Food Guide, Susan Jane White and Lilly Higgins. The real prize was just being there in the room. Winning the award was a very unexpected cherry on top.
Well done to Suzanne Campbell and Paul O'Connor, the Irish Food Writing Awards team who took a little lockdown idea and turned it into a celebration of our crazy industry. And it was no easy task. A total of 27 international judges worked their way through more than 200 entries before making their minds up. These are awards that  both acknowledge and elevate the work done by food and drink writers in Ireland today. I'm so incredibly proud to be a part of this roll call.
A big thank you to all involved in the Irish Food Writing Awards, particularly Suzanne and Paul, venues Fallon & Byrne and Merrion Hotel, judges and sponsors. Thanks also to Madeleine from sponsor Pestle + Mortar Sauces who presented me with my award. Can you see how surprised I am?
2022 Irish Food Writing Awards
Food Podcast Award winner: Spice Bags Podcast from Dee Laffan, Mei Chin and Blanca Valencia.
Sponsored by Safco Fine Foods and judged by BBC radio broadcaster on food and drinks Nigel Barden.
Writing on Sustainability in Irish Food Award winner: Michelle Darmody, for work in The Irish Examiner.
Sponsored by the National Dairy Council and judged by Rene Redzepi of Noma and sustainability food and travel writer Catherine Mack.

Restaurant Writing Award winner: Joe McNamee for work in The Irish Examiner.
Sponsored by Fallon and Byrne and judged by Tom Parker Bowles and Xanthe Clay.
Food Photography Award winners: Professional category winner – Al Higgins
Amateur category winner – Rosie Morgan
Both awards were sponsored by Hussey Veg and judged by Conde Nast photographer Joann Pai.
Online Writing Award winner: Caroline Hennessy for www.bibliocook.com
Sponsored by Pestle + Mortar and judged by UK food broadcaster Andy Clarke, who looked not just at blogs but also Twitter, Instagram and how the writers used social media platforms.
Writing on Irish Food Producers Award winner: Katy McGuinness for work in the Irish Independent
Sponsored by Aldi Ireland and judged by Mark Hix and German-based food writer Christie Dietz.

Investigative Writing on Food Award winner: Niall Sargeant for work published in Noteworthy.ie
Sponsored by Drummond House Garlic and judged by UK food journalist Joanna Blythman.
Emerging Voice in Irish Food Writing Award winner: Maeve L'Estrange for work published in the Dublin Inquirer.
Bringing a focus on newer voices in Irish writing on food and drink, this was judged by members of the Irish Food Writers Guild.
Cookery Writing Award winner: Lilly Higgins for work in the Irish Times
Sponsored by Ardkeen Grocer, the judges were Trish Deseine and French Elle Magazine writer Esterelle Payany.
Wine Writing Award winner: Aoife Carrigy – Irish Independent
Sponsored by Whelehans Wines and judged by Fiona Beckett and Marie-Dominique Bradford of Trois Fois Vins in Paris
Spirits Writing Award winner: Oisin Davis for work published in Food & Wine Magazine
Sponsored by Powerscourt Distillery and judged by food and drink writers Colman Andrews from New York and Rachel McCormack from Scotland.
Beer Writing Award winner: Breandán Kearney for work published on Good Beer Hunting.
The aim of this award is to encourage and popularise more writing on beer in Ireland. Sponsored by Bru Brewery, it was judged by drinks writers Robb Walsh and Richard Croasdale from UK beer magazine Ferment.
Food Writing Award winner – Corinna Hardgrave
Sponsored by Bord Bia, this was judged by American food author Adrian Miller and British author and food writer Sophie Grigson.
Writing on International Cuisines in Ireland winner: Mei Chin for work in The Irish Times and The Times (UK) newspapers.
Sponsored by the Irish Curry Awards and judged by British food writer Anjula Devi.
Magazine or Food Supplement Award winner: Food & Wine Magazine.
Sponsored by Invest NI, this was judged by UK food writers Charlotte Pike and Claire Finney.
Outstanding Achievement in Food and Drink Writing Award: Tomás Clancy
This award was particularly poignant. It went to the wonderfuly erudite and entertaining wine writer and broadcaster Tomás Clancy, who died last year, and was accepted by his wife Claire Kearney and sons Tomás and Liam Clancy. Sponsored by James Whelan Butchers.
Cookbook of The Year Award winner: FX Buckley the Dublin Steakhouse by Katy McGuinness and Stephen Buckley.
Sponsored by Gather & Gather and judged by Jay Rayner and Dr Annie Gray of BBC Radio 4's The Kitchen Cabinet.