Read: Irish Foodie | When the florist met the chef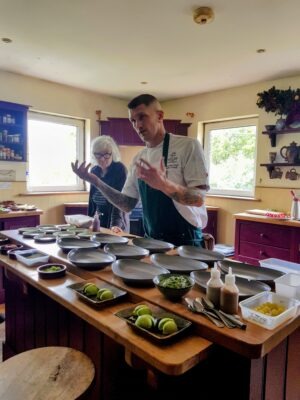 First published in the Irish Foodie Autumn 2021 magazine.  
Florist Mags Riordan is the owner and creative director of Bumblebee Flower Farm in Drimoleague while Eddie Attwell, an experienced chef who has previously worked with Simon Rogan at his two Michelin starred restaurant L'Enclume in Cumbria, is based at Glengarriff's Eccles Hotel. After a first encounter on Twitter, the duo have been collaborating together since Attwell moved to West Cork. "It gave us the opportunity to develop our love of seasonal food," says Riordan, "thinking outside the box and always pushing boundaries. Eddie's background in growing and foraging allows him to see the bigger picture and my background in floristry allowed me to develop the edible ornamental range and between us there are new flavours, applications and varieties being introduced to the Irish market."
"Flowers brought us together," laughs Attwell. "When I came down here Mags was the only person I knew and flowers brought us together. For me, West Cork is all about the flora. Even its symbol – the fuschia – is an edible flower. The things that grow here naturally are unreal, the produce, the flowers." This is evident at Bumblebee Flower Farm, where Riordan has built her gloriously colourful and fragrant garden from a blank four-acre field under Nowen Hill. Polytunnels are filled with an abundance of flowers, including nasturtiums, violas, dahlias and roses alongside rose, lemon and chocolate scented geraniums, all of which find a place on the plate. Riordan focuses on a holistic approach, taking care of the soil and the area's natural biodiversity, with birds, bees and insects all encouraged to take their place in this peaceful space. Her passion and love for growing flowers is evident but she has a special affection for the edible varieties: "I love the seasonality and selection available in each season and how they marry with other seasonal food at any given time. Their contribution to pollinator health is the icing on the cake for me."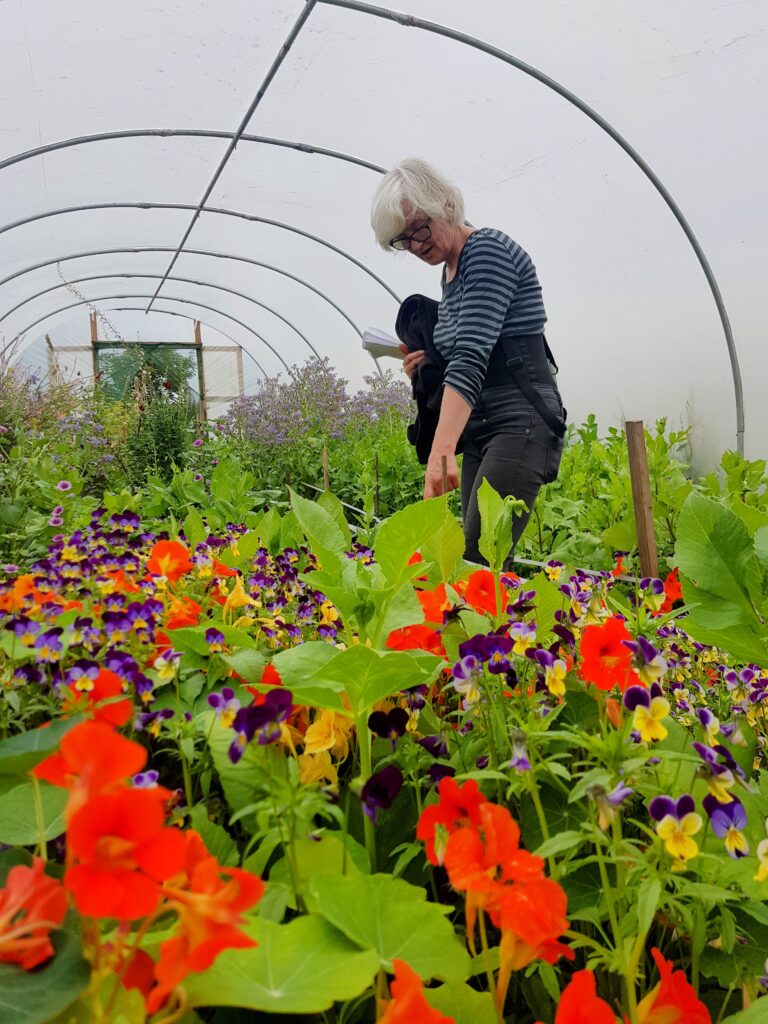 Although Riordan and Attwell approach edible flowers from different angles, it's been a fruitful relationship for them both. "When I worked at L'Enclume," says Attwell, "the whole menu was constructed using flowers. We worked from the ground up, using all kinds of elements of a plant. For example, if radish was on the menu, we used the radish microgreen, regular radish, oversized radishes, the flowers, seedpods. It's about layering the spicy flavour of the radish, in all kinds of different ways." As the Eccles Hotel is surrounded by mature gardens, including lots of edible flowers, Attwell likes to showcase this on the plates of food, involving the front of house staff in adding floral garnishes to the dishes that they're about to bring to tables. "It's an old touch for an old hotel, it sits well here, and the staff like to pick out the colours that they like!"
As well as sending her produce to Attwell, Riordan supplies edible flowers to chefs in restaurants, hotels and country houses throughout Ireland but, as she explains, the market has changed considerably in the last 18 months: "Pre Covid it was hospitality and cake designers but post Covid it's mainly cake designers, especially for wedding cakes. Cocktail mixologists using edible flowers are also increasing."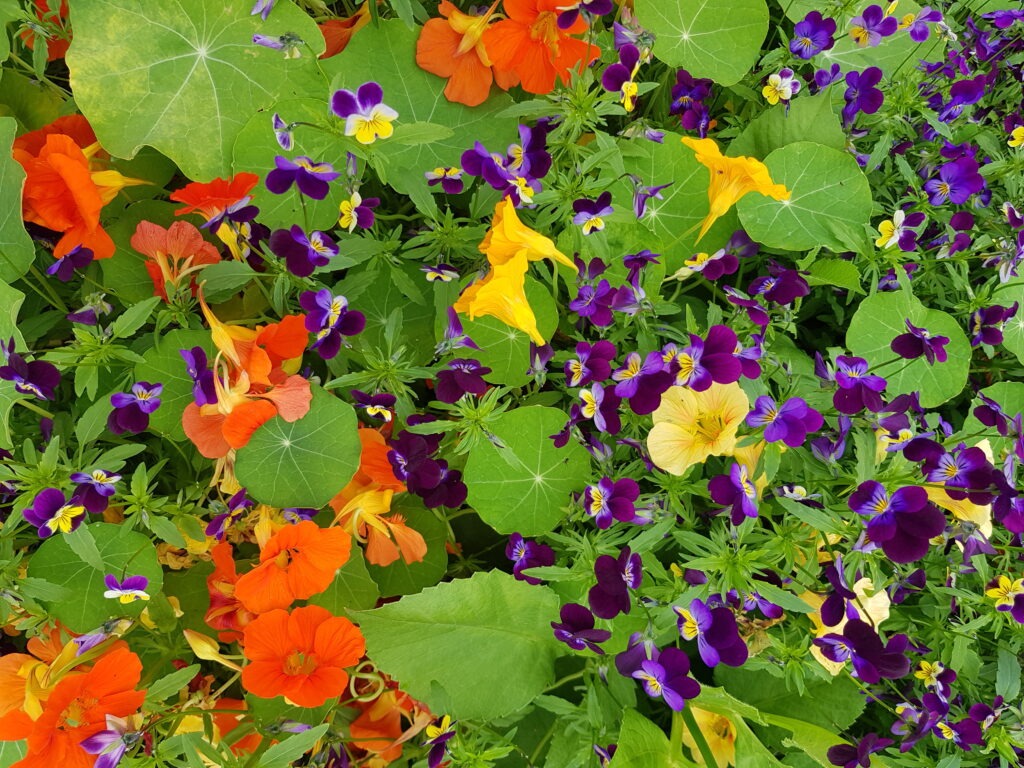 This summer, Riordan held the first of her edible flower workshops, designed for chefs, growers and gardeners who were interested in growing, nurturing and preserving edible flowers. She started the workshops because, she said, there had been an explosion of interest in edible flowers and she was concerned with "the lack of understanding on the health and safety that involves growing edible flowers as an edible crop,". Riordan was getting regular inquiries about growing and harvesting them – and also, something which was a little disquieting, questions on what actually constitutes an edible flower. Recognised as a crop by the Department of Agriculture, Food and the Marine, edible flowers are classified as fresh produce – alongside fruit, vegetables and herbs – and growers must register with the Department before starting production.
For this workshop – part of her new ecological flower school – Riordan teamed up with Attwell. Attendees travelled from as far away as Connemara, Drogheda and Limerick to learn about sowing, growing and harvesting from Riordan, while Attwell brought flowers into the kitchen, exploring possibilities and showcasing techniques while producing a lunch that displayed his incredibly wide range of uses for edible flowers. That rose petal-infused white chocolate was aerated and served with West Cork strawberries; a piquant dahlia chutney paired with Rockfield sheep cheese; and, to spread on freshly baked rolls, there was verdant green nasturtium butter made using the leaves, flowers and pickled seed heads. Their teaching is a contrast in style: Riordan's vast reservoir of knowledge emerges gradually, quietly, as she walks students through the garden while Attwell, who never stands still for long, is constantly bubbling over with ways of preserving flowers (blitz petals with sugar), ideas of how to use them (syrups, pestos, chocolates), and different flavour combinations (rose and purple basil).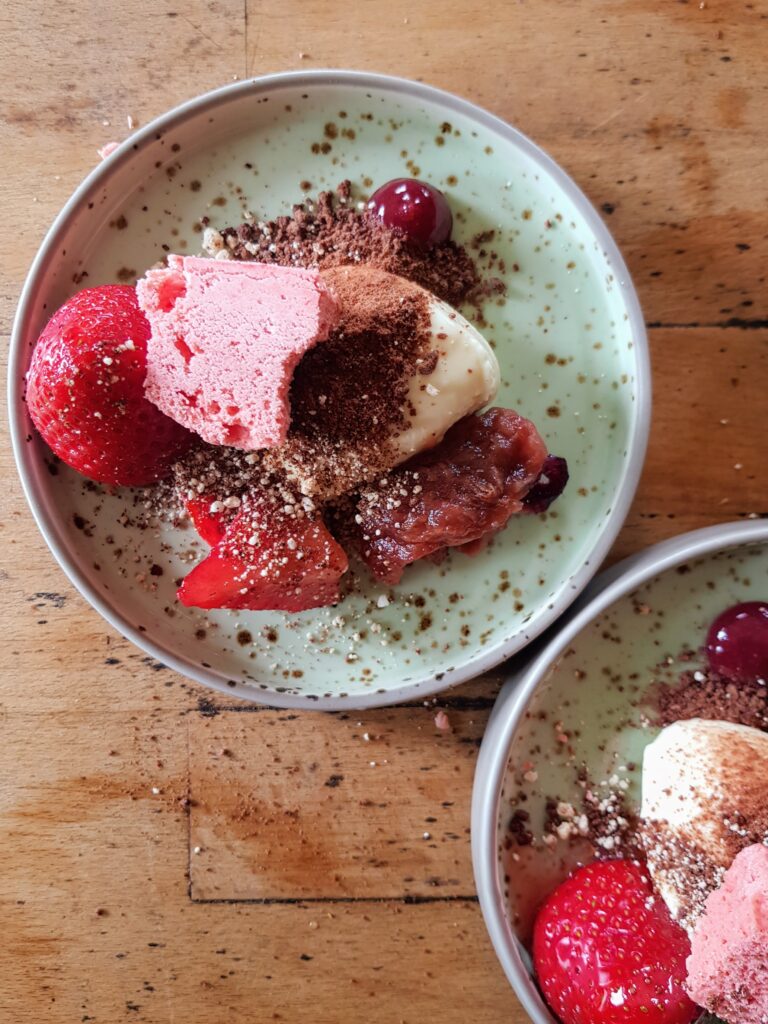 Not just pretty on the plate, edible flowers are true flavour bombs with an almost endless range of possibilities. Once you learn a little about them, you'll never look at a dahlia in quite the same way again.
bumblebeeflowerfarm.ie
www.eccleshotel.com