Gingerbread house 2021 + gingerbread recipe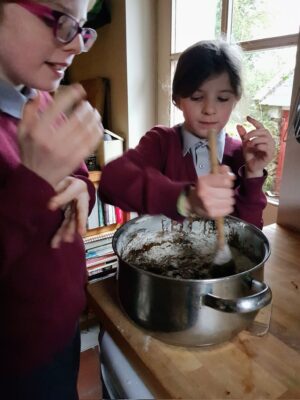 We've started! THE most important part of Christmas baking – according to the girls – kicked off at the start of December when we rediscovered the gingerbread house mould in one of the battered old suitcases that holds some of the Christmas decorations.
Every year I have a mini heart attack as I search for the gingerbread recipe that I have been using for the last 10 years. It's in one of my old notebooks, a black leather one with Pathé! on the cover from my old life as a film / music / book critic. It's very much a kitchen notebook, one that I've been scribbling in it since 2006. It has become slighly food splattered over the years, with recipe clippings and old receipts falling from the pages. Every year I go back to the same page that I wrote in December 2011 – our first year of gingerbread house baking – and try to decipher the scrawl, with each year's additions and changes. Every year I swear that I will write it down here so that I won't lose it.
This is the year.
Follow our gingerbread house adventures at #BibliocookGingerbreadHouse.
Gingerbread dough
This batch of dough makes enough for one gingerbread house, using our mould, or lots of gingerbread people / stars / Christmas trees / hearts. I normally make a double batch so that there's some there to play with after we make our house. Its a very good humoured dough and will withstand lots of mauling in the kitchen. Makes 1 x gingerbread house.
350g plain flour
½ teaspoon bread soda
½ teaspoon salt
1½ teaspoons ground ginger
1½ teaspoons ground cinnamon
½ teaspoon ground nutmeg – freshly ground is best
½ teaspoon ground cloves
125g butter
100g granulated sugar
175g molasses
1 egg, beaten
Measure the flour, bread soda, salt and spices into a large bowl and whisk together. Put the butter, sugar and molasses into a heavy based saucepan and warm, over a medium heat, until everything is melted and just about to bubble. Remove from the heat and allow to cool for five minutes so that it doesn't cook the egg.
Beat the egg into the warm, buttery sweet mixture until thoroughly mixed, then stir in the dry ingredients. Everyone in the house needs to take a turn at this (no matter what kind of mess they make) so that they can make a wish while stirring. Beware of small fingers dipping in too frequently for a tasting. That sweet, spicy molasses flavour is hard to resist.
Scrape dough into a box and refridgerate for at least 2 hours before using, and preferably overnight. We often freeze it at this stage.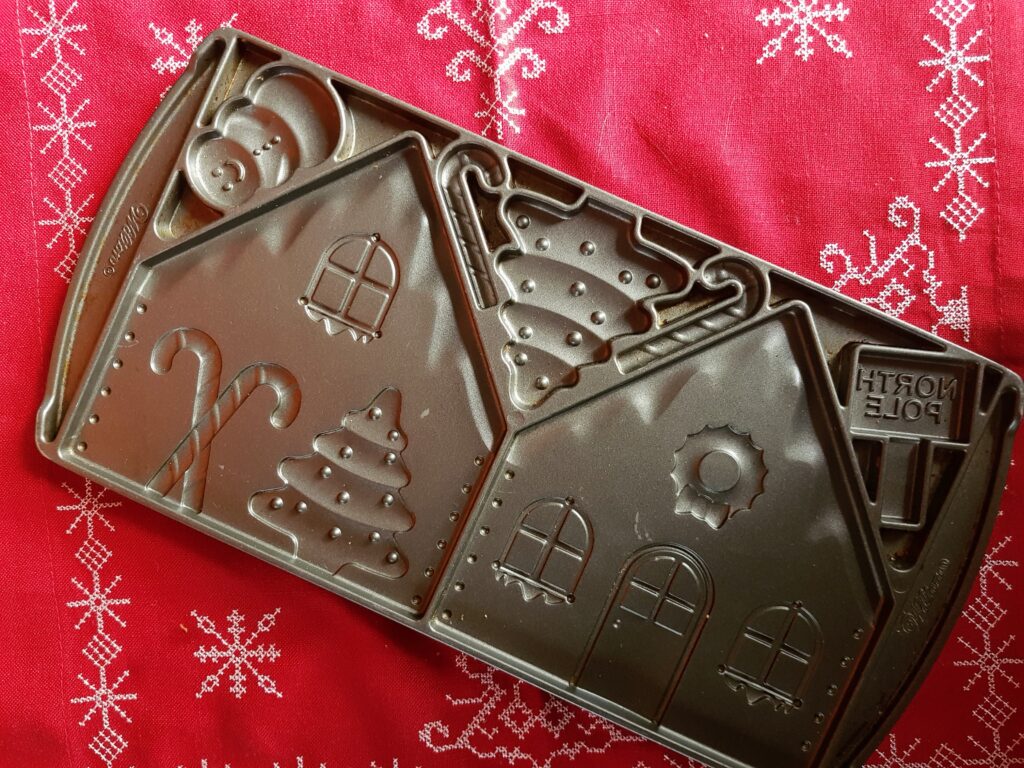 If you're using it for a gingerbread house mould like ours – I bought this heavy aluminum Wilton one online from a (now obsolete) Irish website in 2011 – it needs to be oiled before use so brush with a little sunflower oil. Preheat the oven to 180C and remove the dough from the fridge so that it warms up a little. Press the dough into the oiled mould – small finger are good for this – and bake for 20-25 minutes until the dough has puffed up a little, receeded from the edges and smells glorious. Let it cool for 5 minutes on a wire rack before, ever so carefully using a small palate knife, removing the pieces from the moulds.
Repeat. Twice.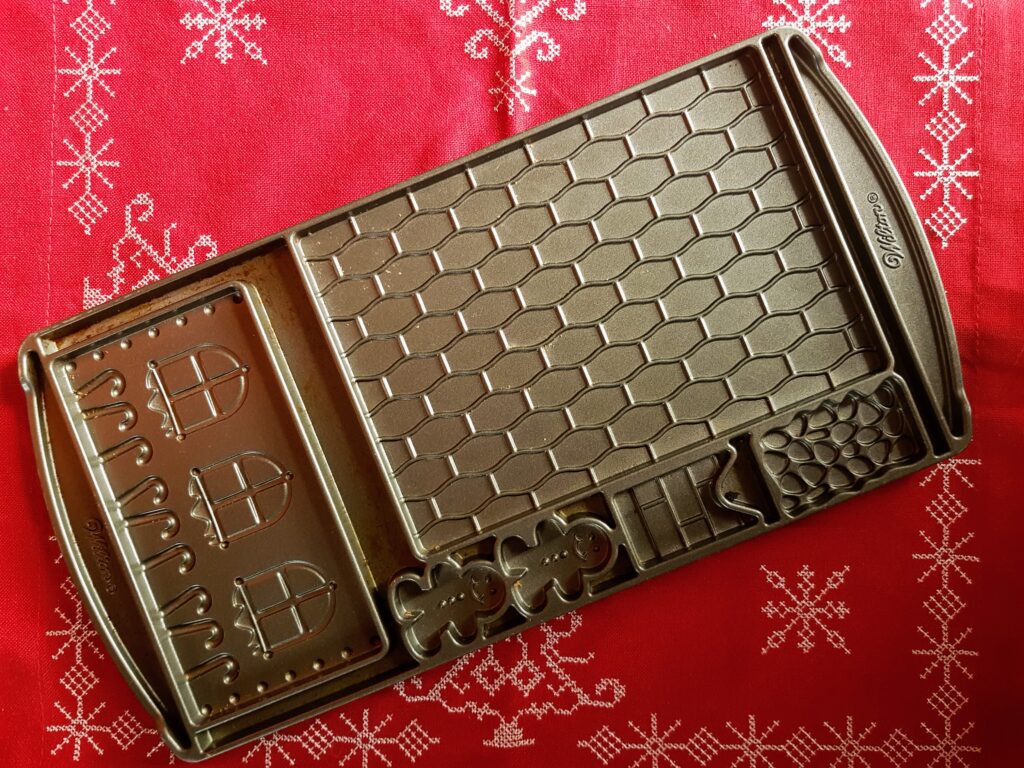 .
This does take up quite a bit of time so easiest do it at the weekend or on a day when you're gently pottering about the kitchen. The children will lose interest after a (short) while so get them started on some gingerbread people: preheat the oven to 180C and line some baking trays with greaseproof paper. Roll the dough out to a thickness of ½ cm on a lightly floured surface and stamp out as many shapes as you have cookie cutters. Place on the baking trays. We sometimes apply sprinkles to the surface of the uncooked dough at this stage.
Bake for 12-15 minutes until cooked through. Cool on a wire rack before decorating as desired.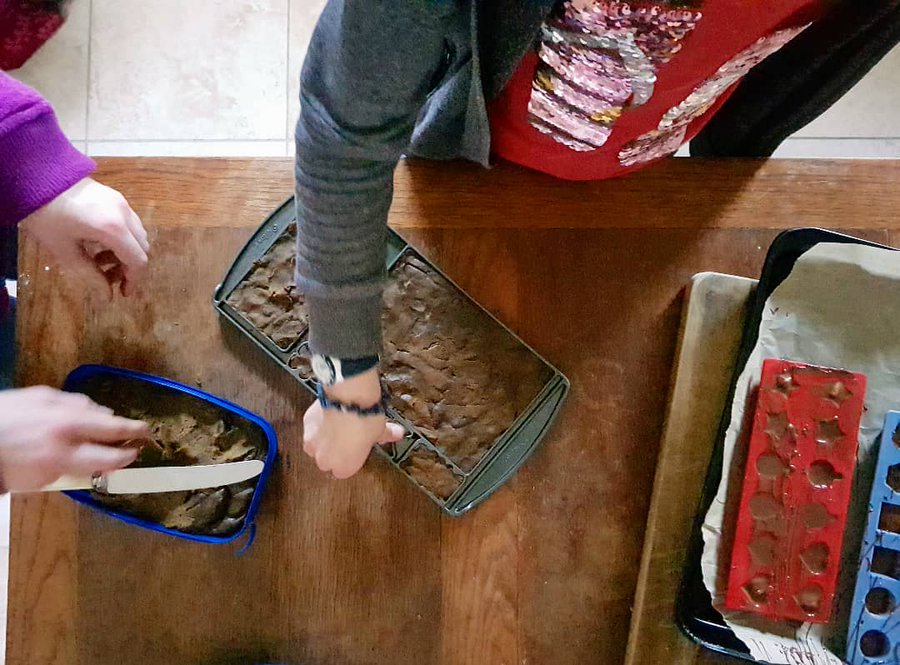 Gingerbread houses through the years
Gingerbread House 2020
Gingerbread House 2019 + Christmas Eve traditions
Gingerbread House 2018
Gingerbread House 2017
2015 Christmas traditions: The Gingerbread House
Gingerbread house 2014
Gingerbread house 2013
Gingerbread house 2012
2011 All finished! Our gingerbread house