Blasta Books #1: Tacos by Lily Ramirez-Foran
F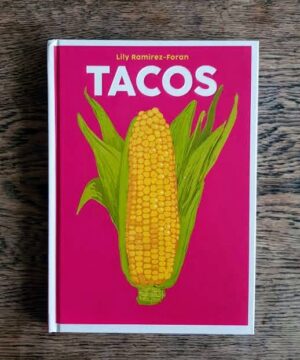 ood and words, bringing people together.

I first met book editor Kristin Jensen over lunch at a Bord Bia event in 2010. We already knew of each other through blogging and chatting on Twitter; it wasn't long before we started working together in real life, setting up the Irish Food Bloggers Association later that same year. At a time when the world of Irish food blogging was still very much in its infancy, with everyone reading and commenting on each other's blogs – easily done when there were only about 30 of us! – Kristin and I wanted to bring these online relationships into the real world and the IFBA, via our focus on Irish food and the people who produced it, was a way of doing just that.
One of the many events that we worked on together was Inishfood, a dinner in Inishowen that turned into a weekend-long festival. I still remember meeting an excited Lily Ramirez-Foran aka A Mexican Cook, who I'd been in email communication, just after she arrived at the Friday night pot luck. Just a few short months later we gathered in her kitchen getting a masterclass on making corn tortillas, being brought together with tacos. It was evident right from the start that Lily was a born teacher. I've never removed a seed from a chilli since then, nor gotten confused between a salsa (cooked sauce) and pico de gallo (raw). I've cooked her Cochinita Pibil for family and friends, been able to shop in and order from her lovely Picado Mexican and even made tortillas with the girls, still channeling all that she taught me back at that class in 2011.
Delicate work.

Saturday night tortillas with our super red tortilla press and masa harina picked up online from @PicadoMexican. Still working on our technique but there's definitely more of an assembly line feel to our work this time round! pic.twitter.com/Jg6deLOLvN

— Caroline@Bibliocook (@Bibliocook) August 8, 2021
Now I have Lily's debut cookbook, Tacos, beside me on my kitchen table. It's the first of Kristin's Blasta Books to be published, a brightly coloured, beautifully illustrated cookbook that's small in size only – it comes with high ambitions for both author and publisher. For Lily, it's an opportunity to introduce people to the authentic flavours of Mexico, distilling all those years of teaching into a brilliant collection of recipes and tips. Her distinctive voice – authoritative and opinionated – comes through loud and clear, whether she's talking about family food influences and advice from Mexico (check out the skipped goat references and recipe), developing a Korean-influenced sticky hibiscus and chipolote salsa or guiding you a made-from-scratch spicy chipolote mayonnaise. I'm hoping to perfect my tortilla making skills with the step by step instructions, have stocked up on Picado Mexican chillies for the tacos al pastor and am looking forward to trying Lily's master recipe for smoky refried beans.  
With Tacos, Kristin is also stating her ambition: to disrupt the publishing industry with Blasta Books. Tacos is the first of the four quarterly releases, covatable little hardbacks that focus on topics like Hot Fat (Russell Alford and Patrick Hanlon), The United Nation of Cookies (Jess Murphy and Eoin Cluskey) and Wok (Kwanghi Chan). These are all new authors, bringing a new perspective to the table, and Kristin has gathered a dream team of collaborators to showcase their work: she's the publisher and editor, design is by Jane Matthews while Nicky Hooper is the series artist. The books, just €15 each, are available from the Blasta Books website, along with some gorgeous fridge magnets and greeting cards. Be sure and sign up for the newsletter too, so that you can read the behind the scenes story of cookbook publishing. 
Words and food – and tacos: bringing people together. 
I can't wait to see what comes next.