Irish cheese, smoked eel and golden ale for the 2023 IFWG Food Awards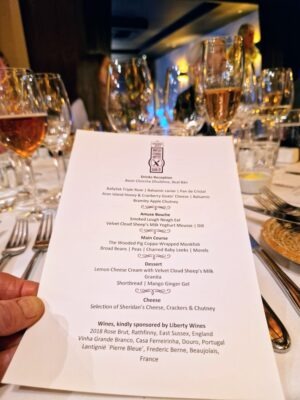 As the chair of the Irish Food Writers' Guild, I was delighted to welcome my fellow members, food lovers and award winners to Suesey Street for today's Irish Food Writers' Guild Food Awards lunch.
It's been a while – we had two years of online e-zines to celebrate winners in 2021 and 2022 – so it was all the sweeter be back together in person to celebrate our 2023 winners. It was also an opportunity to mark 30 years of the Irish Food Writers' Guild Food Awards, which were launched in 1993 to highlight the work of small, independent Irish food producers and organisations of the highest quality.
Thirty years ago, the first award winners were Cáis – the association of Irish farmhouse cheesemakers – Donnelly's apples in Kilkenny and Silverhill Duck. All these years later, Irish cheese, Irish-grown produce and Irish meat are still three of the cornerstones of Ireland's reputation as a provider of wholesome, innovative and sustainable food.
Since 1993, each winner has been chosen independently and anonymously by IFWG members, recognising the best in Irish food by shining a light on smaller producers who might otherwise slip under the radar. From traditional products of the highest quality to new innovations, this year's winners exemplify what is so exciting about Ireland's food and drink industry right now.
Congratulations to all the @foodguild #IFWGAwards2023 winners! @LoughNeaghEels @VelvetCloud_ie @ballyliskarmagh @westkerrybeer @AranGoatCheese @thewoodedpig @good_2grow @SheridansCheese

With thanks to @Bordbia. #IFWGFoodAwards pic.twitter.com/kgqX52FHKo

— Caroline Hennessy (@Bibliocook) March 7, 2023
Guild members have always shared a passion for nurturing a proud and vibrant Irish food culture. Thirty years on from those first awards, we are fortunate to live in a country where there is more attention paid to the food we eat, to who is producing it and how it is produced.
This year's awards were held in Suesey Street and the team there, headed up by manager extraordinaire John Healy, sales and events manager Mark Dunne and head chef Deniss Lasenko, went above and beyond to showcase our award winning products in the menu for the event. 
Congratulations to all the winners!
The winners of the 2023 Irish Food Writers' Guild Food Awards are:
Food Award: Smoked Lough Neagh Eel, Co Antrim
Food Award: Velvet Cloud Sheep's Milk Yogurt, Co Mayo
Food Award: Ballylisk of Armagh, Co Armagh
Irish Drink Award: Beoir Chorcha Dhuibhne for Béal Bán, Co Kerry
Notable Contribution to Irish Food: Gabriel Faherty, Aran Island Goats' Cheese, Co Galway
Environmental Award: The Wooded Pig, Co Meath
Community Food Award: Field of Dreams – Down Syndrome Cork, Co Cork
Lifetime Achievement Award: Kevin and Seamus Sheridan, Co Galway
Irish Food Award – Smoked Lough Neagh Eel
A Lough Neagh eel is a curious thing. Born in the Sargasso Sea, the young elvers gradually make their way across the wild Atlantic to mature in the largest freshwater lake on the island of Ireland. It's a unique habitat and one which ensures that Lough Neagh eels are renowned for their flavour and texture.
In 1965, Lough Neagh Fishermen's Co-Operative was set up to safeguard the traditional methods of catching eels. In 2011, Lough Neagh eel joined an illustrious line-up of foods such as Champagne, Gorgonzola and Parma ham when it was awarded PGI (Protected Geographical Indication) status by the EU. In line with careful conservation guidelines, the Co-Operative now catches and processes around 220 tonnes of Lough Neagh Eel annually. A select few are smoked and it is this smoked Lough Neagh eel that wins a 2023 IFWG Food Award.  Website
Irish Food Award -Velvet Cloud Sheep's Milk Yogurt
There's something ethereal about Velvet Cloud Sheep's Milk Yogurt. "Nothing added, nothing strained away," the label says, just the pure, natural goodness of sheep's milk from an almost 400-strong flock on the Flanagan family farm near Claremorris, Co Mayo. Nutritionally, it punches above its weight with a higher-than-average protein yield, alongside probiotics and live cultures. Eaten on its own, the yogurt is a pleasure in itself, but it performs magical things in sauces, marinades, drinks, bakes and desserts.  Website
Irish Food Award – Ballylisk of Armagh
Ballylisk's range is a real taste of Armagh. Mark Wright, one of the fifth generation of the Wright family, who grew up on the family farm at Ballylisk, Co Armagh, makes Ballylisk's Triple Rose. This white mould ripened, single-herd, triple cream cheese was Armagh's first farm-produced cheese. Since developing and launching the flagship Triple Rose, Ballylisk has gone on to make two more gorgeous cheeses. There is also a range of accompaniments, notably a balsamic Bramley apple chutney, to complement the cheeses. Website
Irish Drink Award – Béal Bán from Beoir Chorcha Dhuibhne
Adrienne Heslin is one of Ireland's early craft beer innovators, founding Beoir Chorca Dhuibhne, also known as West Kerry Brewery, in 2008 in the garden of her pub, Tig Bhric, in Ballyferriter on the Dingle Peninsula. Beoir Chorcha Dhuibhne was the first brewery in Kerry and the first in Ireland to be founded and managed by a woman. With a small 800-litre kit and using water from 150 feet below the brewery, this is true craft brewing that has an intense connection with its terroir. Besides Béal Bán, which is a brilliant golden ale, Adrienne and her team now have 17 beers in their portfolio. Website
Notable Contribution to Irish Food Award – Gabriel Faherty of Aran Islands Goats' Cheese
Gabriel Faherty is a born and bred Aran Islander who started his cheese journey after his wife bought him a cheese-making course as a birthday present. When he decided to buy a herd of frisky goats, Aran Islands Goat's Cheese – Cáis Gabhair Árann – was born. In 2021, Gabriel set up Aran Food Tours and combines his cheese production with bespoke tours on the history, culture and food of Inis Mór. Gabriel is the very definition of a seanchaí, a storyteller, and his deep knowledge of the island coupled with his passion for food makes him a real food hero and a marvellous ambassador for the Aran Islands, Galway County and beyond. Website
Environmental Award – The Wooded Pig
Eoin Bird established the Wooded Pig in 2016 on his family-run farm in the Boyne Valley in Tara, Co. Meath, where he and his team produce ethically raised free-range Irish pork charcuterie. Eoin values the importance of seasonal, ethically produced food and its provenance. He and his artisan team practise ethical and regenerative agriculture not only to craft the best possible food produce, but also to ensure a nature-friendly farming network. The pigs roam freely among ash, oak and beech trees, allowing them plenty of shade in the summer and endless mud to bathe and dig in when it rains. Curing meat is a long process involving butchering, spicing and drying. These age-old traditions are carried out on the grounds of the farm, thus ensuring full traceability, the highest possible food production standards and reduced food miles. It all makes for very happy pigs and delicious, hand-crafted charcuterie.  Website
Community Food Award – Field of Dreams
Field of Dreams was established in 2017 by the Cork branch of Down Syndrome Ireland. The three-acre site supports the learning needs of adults with Down Syndrome across the city and county of Cork using horticulture as a catalyst for learning and personal development. From seed to plot to plate, participants work together to grow and harvest food, learn about good nutrition and how to cook. Field of Dreams works to enable adults with Down Syndrome to lead fully engaged lives with greater personal independence and self-reliance. Field of Dreams is a perfect example of how food and community come together. Website
Lifetime Achievement Award – Kevin and Seamus Sheridan
From farmers' market stall to household name. That's been the journey for Kevin and Seamus Sheridan who started selling cheese at Galway's Saturday market in 1995 and who have worked to develop and grow a market for Irish farmhouse cheese. Building strong relationships with producers and working closely with them to get the very best, has been central to the ethos of the company. Today the Sheridans name – and that distinctive green, white and gold packaging – is synonymous with quality. They've opened up a new world for the cheese lovers of Ireland. Website