Wild and precious: Irish Raw Milk Cheese Week: 8-14 May 2023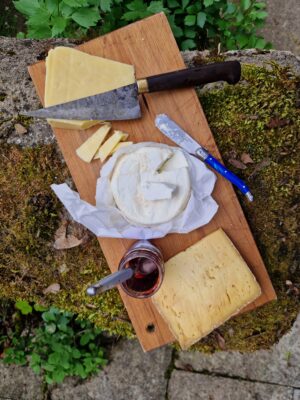 Back in 2006, I attended a Slow Food event at Arthouse in Temple Bar where Kevin Sheridan of Sheridans Cheese explained the importance of raw milk cheese and talked us through samples of Drumlin, Cooleeney Raw, Mount Callan Cheddar and, my favourite, the show-stopping Bellingham Blue. It was my first – but not last – time seeing Kevin talk about cheese, which he does with a rare passion. I especially loved how he spoke about raw milk cheese and it inspired a real interest in the wilder side of cheesemaking.   
I've had a grá for, and fascination with, Irish raw milk cheese since then and it's wonderful to see Sheridans still proudly flying the flag for these rare and precious beauties.
This year, to celebrate Irish Raw Milk Cheese Week, which runs from today, Monday 8 May, to Sunday 14 May, Sheridans sent out a special selection of raw cheese from Irish cheesemakers, featuring:

Coolattin Cheddar – Coolattin Cheddar & Mount Leinster
Corleggy Cheese – Creeny
Hegarty's Cheese – Templegall
Inagh Farmhouse Cheese – St Tola Ash Log & StTola Crottin
Knockanore Farmhouse Cheese – smoked, red & white cheddar
Leitrim Hill Creamery – Sliabh an Larainn & Cnoc Liatroma
Mike's Fancy Cheese – Young Buck
The Lost Valley Dairy – Sobhriste
For this week, the work of eight farmhouse cheesemakers – who collectively make 24 different varieties of Irish raw milk cheese – are being showcased.

It's worth looking out for these cheeses at any stage: they're all fabulous examples of food that is wild and beautiful and constantly changing. Each cheese is a particular expression of that particular time, place and maker, unique in and of itself. In a world where many foods are standardised and uniform, that's what makes raw milk cheese so delicious and exciting and different. But it can't survive unless we buy and eat it, this Irish Raw Milk Cheese Week and all the year around. 
 

 

View this post on Instagram

 


Keep an eye on www.irishcheese.ie – there's lots of information on the individual cheesemakers here – Sheridans Cheesemongers and Slow Food Ireland for more information and watch out at shops, restaurants, farmers markets, and farm open days for tastings and promotions. 
Thanks to Sheridans for organising the press drop and all the producers for the cheese samples.