Pork & ricotta meatballs with fresh tomato sauce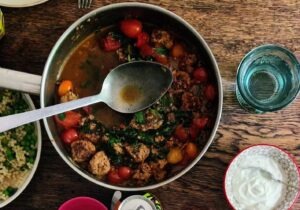 When you have one 500g pack of Lúnasa Farm minced pork (#mediasample) and five people for dinner, a batch of meatballs will be your best friend. These pork and ricotta ones, served with lemon ricotta (hey, it was a 250g tub – I wasn't going to waste half of it!) are a riff on an Alison Roman recipe from her 2019 book Nothing Fancy.
Lots of amp-ed up flavour here, which is a Roman trademark, but it's all coming from storecupboard ingredients, hence easy to pull together when you've misjudged suppertime numbers. Our brewer-turned-gardner guest brought the freshest, just-dug new potatoes – Homeguard, if I remember correctly – so we served these meatballs with a side of steamed spuds to mop up their most delicious juices. He also rocked up with a handful of baby courgettes, which got sliced thinly and turned into a zesty salad with apricot, elderflower and lemon. A bag of spinach from the same source was shredded and stirred into the fresh tomato sauce at the very end, just to make sure that everyone got their greens, and we also had a bowl of giant couscous with peas and lemon. Plenty of sides and salads, plus a small amount of very good meat, makes an absolute feast.

A regenerative family farm near Quin in Co Clare, Lúnasa Farm is run by Aussie Cass and Clare man Nick McCarthy who sell nose-to-tail, grass-fed, ethically raised pork and beef online and at their butchery in Clarecastle. Find out more on their website at lunasafarm.ie. They sent me a sample of their meat products when they launched their online shop.


Pork & ricotta meatballs 
Serves 4 – 5, especially when there are lots of salads to make them stretch.

500g minced pork
125g ricotta
2 cloves garlic, smashed to a pulp
1 teaspoon fennel seeds
1/2 teaspoon smoked paprika
1/2 teaspoon fine sea salt
1/2 teaspoon freshly ground black pepper
1/2 teaspoon chilli flakes
30g fresh breadcrumbs (I used a crumbled brioche roll)
2 tablespoons olive oil

Place all ingredients, apart from the olive oil, in a large bowl and mix thoroughly. Using a teaspoon and damp hands, form into walnut-sized meatballs. You should get 20-25 from this mixture. Place on a baking tray, cover and refrigerate for about 30 minutes. This helps them to hold their shape when you cook them.

Heat the olive oil in a large skillet or frying pan over a medium heat. Carefully add the meatballs to the pan in a single layer and allow to cook until brown underneath. Gently turn them and cook until browned all over, about 8-10 minutes.

Add to your favourite sauce and simmer for another 10 minutes until cooked through or continue to the next step for a more summery version.

Fresh tomato sauce
1 onion, finely chopped
2 cloves garlic, thinly sliced
500g tomatoes, roughly chopped
200g spinach, washed and roughly chopped (optional)
1 lemon, halved
125g ricotta
Salt, pepper
Remove meatballs from the pan and set aside. Tip the onions into the hot fat, adding some extra olive oil if necessary. Fry over medium heat for 5-6 minutes, then add the garlic and continue to cook for another 2 minutes until everything sizzles and smells aromatic. Season well.

Add the tomatoes into the pan and cook until they start to carmelise, approximately 7-10 minutes. Squeeze the lemon on top and add 500ml water, making sure you scrape up all the good bits from the bottom of the pan. Simmer for 5 minutes, then slip the meatballs into the sauce and continue to simmer for another 10 minutes until the meatballs are cooked through. If using, stir in the spinach for the last 5 minutes.

Juice the second half of the lemon and stir it into the ricotta. Season well.

Serve the meatballs in shallow bowls with plenty of sauce, dollops of lemon ricotta, plenty of salads and new potatoes or crusty bread for mopping purposes.