Butter Boy by Paul Flynn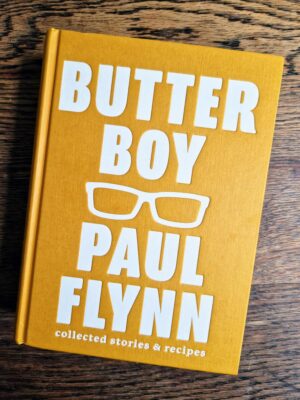 Butter Boy is a most excellent name for a cookbook, and the contents more than live up to the billing. Paul Flynn's fifth book, a collection of three years of his Irish Times columns, is an unashamed paean to the glories of butter, cream, yogurt, cheese and all lovely things dairy, but it's also so much more. The time that it covers – 2019 to 2022 – was a time of enormous change, fear and upheaval as we were all forced to stay at home, cook more for ourselves and develop a close focus on the immediate world around us.
Flynn's warm, witty and avuncular writing brings us right back to those days, from his frustrations at having to close / open / close / open his lovely Tannery Restaurant, an appreciation for wild garlic on the doorstep during the 2km-limited times, and the all-pervading fear that had us all staying close to home yet yearning for far shores and gatherings of friends and family.
At the cottage, Saturday's Irish Times was the newspaper that we bought on rare trips to the shops so re-reading the columns in this book is like reliving those days of dreadful uncertainty. Once you're through the PTSD flashbacks, however, what Butter Boy is, quite simply, is a very good cookbook. Flynn has a grá for travel and through his writing he brings us inspiration from Italy (spaghetti with garlic, chilli and chopped prawns), France (tarte flamiche), Switzerland (rösti with crispy bacon, honey and goat cheese) and his beloved Spain (escalivada, ajo blanco, paella). Amidst these flights of food from distant shores, he also keeps his feet firmly planted in Dungarvan. He's a man who is happy to celebrate underappreciated Irish produce like parsnip, cabbage, beetroot and the unglamourous turnip – and to get the most from them. Mashed turnip with sage brown butter is the kind of dish that will have you scraping out the pot for fear you missed any scrap and gratin of smoked mackerel and turnip is high on my must cook list. Flynn also writes of the frustrations and challenges of trying to feed teenagers and there are plenty of family-friendly dishes that need bookmarking and trying sooner rather than later: baked pasta cake with rocket and parmesan cream; chicken with yogurt, mild spices and sticky aubergine; and orzo with mushrooms, spinach, lemon and parmesan are just a few of the dishes awaiting their night on the table.
With 52 columns and 450 recipes, this is a satisfyingly fat book, a joy to spend time with – it makes a great companion over breakfast – and for cooking from.
Find Butter Boy by Paul Flynn (€35) is published by Nine Bean Rows. Thanks to the publisher for the review copy.
Find in all good bookshops and online at ninebeanrowsbooks.com.
View this post on Instagram