Read: The Examiner | Food that's too good to waste: using an app to save food and money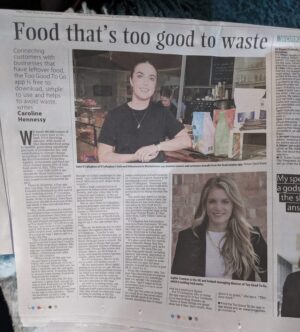 First published in The Examiner on 15 September 2023.
800,000 tonnes: that's how much food we waste every year in Ireland. It's a shocking amount, with much of that discarded food going to landfill, generating significant amounts of greenhouse gas and contributing to climate change. According to recent figures from the Environmental Protection Agency, restaurants and food services created almost 25% of the food waste total in 2021. This costs money – over €300 million per annum for these businesses – wastes resources and has a significant negative environmental impact.
There is, however, a free app that can help with that. In operation in Ireland for the last two years, Too Good To Go was founded in Denmark in 2016 and is now working across 17 countries and two continents to reduce food waste. So far in Ireland, there have been over 420,000 downloads of the app.
"The whole premise is a simple marketplace that connects customers with businesses that have surplus food," says Sophie Trueman, UK and Ireland Managing Director at Too Good To Go. "It's all done on the app. You look at your location and it will show you all the stores with surplus food, sold in the form of a surprise bag. I like to call it a lucky dip bag." This is food that is still perfectly good to eat but it just hasn't sold in time. With large food retailers like SuperValu and Aldi involved, the app also includes independent bakers, restaurants and cafés across the country.
"When you go on the app you can purchase a surprise bag, which will cost between €3 to €5. From that cost," says Trueman, "we take a small fee and the rest goes back to that store. It enables them to recover some money from food that would be wasted."
"It's win win-win-win. It's fun and easy, a great deal, you get access to new food and you're doing something good for the planet."
Too Good To Go came to Ireland two years ago and Trueman considers the response to be "very positive. Since we launched we have 2,000 partners working with us" although an initial challenge for the team "was understanding the cultural differences and shape of the country."
With a high concentration of partners in urban areas, especially Dublin, and also cities like Cork, Limerick and Galway, is this an app that only works in those population-dense places? Not so, says Kate O'Callaghan, general manager and part-owner of O'Callaghan's Café and Delicatessen in Mitchelstown. With 35 years of experience in serving the people of North Cork, this friendly, family-run business signed up to the app earlier this year. "For us, we keep an eye on what we have throughout the day," says O'Callaghan. "I prefer to put things up fresh on the same day, so we usually keep an eye on what we think we might have available. We usually put in things that are perishable, on their last day of being at their best. Things like scones and breads – which can be frozen at home and used for school lunches – salads, cakes and desserts."
For O'Callaghan, Too Good To Go is a last – but useful – resort. "We are passionate about repurposing as much as we can. We are very conscious of waste and keep an eye on what's in the fridge, what's left over, We freeze and we reuse as much as we can and anything that we can't use goes to the bags." As well as avoiding waste, she points out that it enables O'Callaghans to get some return for food that they would be otherwise composting or putting in the bin.
Another advantage is that it gets people to visit local businesses. "I think it's a great chance to be re-introduced to customers," says O'Callaghan. "Due to the increase in costs for everyone, some people's priorities have changed and visiting us might not be top of their list now. With the app, they still get the opportunity to." She notes that there's a certain synergy created when a town like Mitchelstown has more than just one place on Too Good To Go: along with O'Callaghan's, you can also purchase surprise bags on the app from Praline Pastry & Chocolate Shop, Galty Valley Catering and Aldi.
She has had positive reactions from customers: "it's not complicated and people like the fact that they're getting good value. Everyone is trying their best to live more sustainably and that can be your thing for the day." It's also a good way for customers to discover things that they might not necessarily pick up for themselves: "we keep [the Surprise Bag] quite mixed, including savoury and sweet, depending on what's left. Every time it's something different. It might be something that you may not have chosen yourself but, if you've paid for it, you'll try it."
From the consumers' side, Truman likes that element of surprise. "You often get to try something that you wouldn't do normally," she points out, "and it might be from somewhere that you have never shopped before." After just two years in Ireland, Too Good To Go has saved more than 500,000 meals from being wasted, something that Truman sees as a landmark figure.
For O'Callaghan who is using the app regularly in her business, it's a resounding thumbs up. "Some of these things are great ideas but if they don't work, then there's no point," she says. "This does work."
Find the Too Good To Go app in app stores and at: www.toogoodtogo.com/en-ie
O'Callaghan's Café and Delicatessen, Mitchelstown, Co Cork: ocallaghans.ie