Read: The Examiner | You shall have a fishy, in a little dishy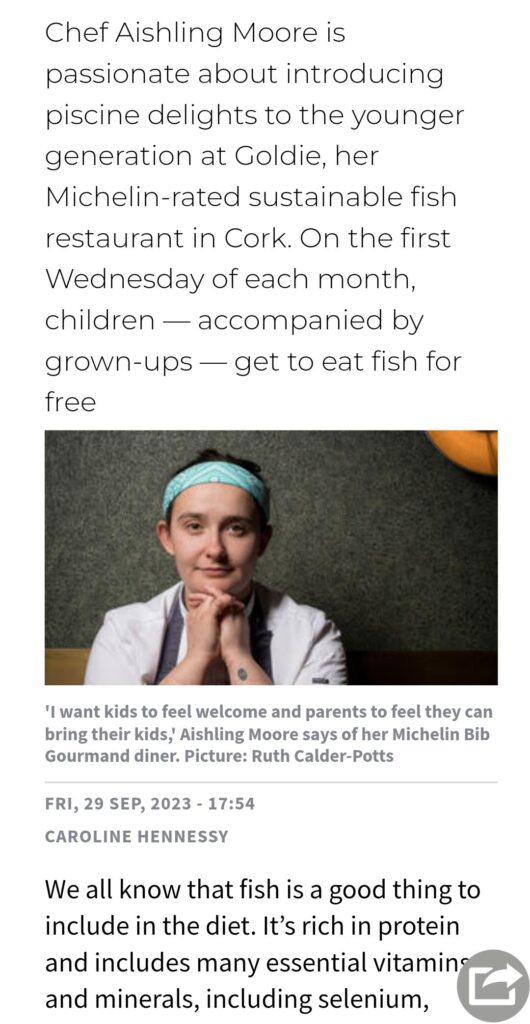 First published in The Examiner on 29 September 2023.
We all know that fish is a good thing to include in the diet. It's rich in protein, includes many of the essential vitamins and minerals, including selenium, iodine, zinc and B vitamins, and oily fish delivers omega-3 fats which help the brain to grow and develop – which is particularly important for children. Fish might be healthy, but it can be difficult to convince smaller members of the family to try it unless they have the opportunity to look at it in a new light.
"We want to make sure that they have something nourishing and delicious." Aishling Moore, chef-owner of Cork's sustainable fish restaurant Goldie is talking about some very special customers: the children who come to her Michelin Bib Gourmand diner on the first Wednesday of every month and who get to eat fish for free. Accompanied by their grown-ups, they have the opportunity to try anything on the menu, which includes pan-fried John Dory, smoked haddock and local Rossmore oysters. The rule is that they must order a fish dish and then there's one free kid's fish meal with every adult meal purchased. It's an opportunity for children to try different fish in this buzzy spot and also cuts down on the risk, for parents, of them turning their noses up at a plate of food.
Although Moore had the idea of running a kids eat fish for free night before Goldie opened in 2019, she was encouraged to start it by observing the reactions of some of their smaller customers from the open kitchen in this compact restaurant. "We had a few kids come in with their parents and we had so much fun with them eating oysters and mussels. We were able to serve them fish with less faff, less garnish, but still the real thing," says Moore. "One night, a kid had his first oyster, mussels, hake and turbot here and he was loving it. When that happens, it's really satisfying for the whole team. It's really nice to be involved in people's first tastes of things."
The menu in Goldie is small and succinct – there is no children's menu – but the friendly front-of-house team is happy to work with children and parents to ensure that they all have a good experience. "I want kids to feel welcome and parents to feel that they can bring their kids," says Moore. "They get exactly the same fish, but we remove the more sophisticated flavours from the plate. If they want to try it, we can put it on the side."
Some of the more popular dishes with her younger diners include the Tai­wanese fish nuggets which, according to Moore, are an unexpected success although they are "kind of spicy. We wouldn't necessarily recommend them for kids, but they love them. I didn't think that they'd eat that level of spice. We also do buttermilk fried fish and keep the fermented hot sauce out of that for kids. But we've had kids eat full mains off the menu, exactly the same as the adults, finishing with clean plates and smiley faces."
Moore, who advocates a scale-to-tail approach, sources her fish from small, sustainable day boats. The whole fish is prepared on site, which gives her scope to play with offcuts like monkfish cheeks, which can turn up in a Mexican-influenced sope, or give hake tail the schnitzel treatment. "We like to have a peek and see what they are eating. Kids eating monk cheeks or monk head, trying cured cod, pollock pastrami, having oysters. The idea is mental," laughs Moore. "[Oysters] are raw in the shell – it's so brave, but they don't see that." Having not had an oyster herself until she was 19 and studying Culinary Arts at CIT (now MTU), she enjoys seeing the relish with which some of her young diners consume these bivalves.
As a child, Moore wasn't a particular fan of seafood, remembering walking through the English Market with her mother or grandmother and hating the smell of fish. "I wouldn't have been given much fish as a kid. My fish," she says, "was fish fingers! But I do remember having lemon sole once, dusted in flour and fried in a pan." Fish wasn't something that she would have picked off a menu either. "I didn't know enough about fish to order it. I wouldn't have had the confidence."
When she started the initiative in September 2020, she initially found that some children were ordering chicken, "which defeated the whole purpose" of introducing them to fish but now the team have their systems sorted. "I always try to get the chefs to drop the food down and be involved. That encourages the kids to try things too." The interaction with their young customers makes it worthwhile for all the kitchen crew: "It's nice for us. We have regular families that come on those Wednesdays every month. It's about building a relationship with a young person and seeing what they like to eat."
Moore would love to see people eating more fish, and not just in Goldie, pointing out that tinned fish is a nutritious way for families to have fish at home even if they don't have access to a fishmonger or supermarket with good fresh fish. With the kids eat fish for free night, she hopes that it will get families to look at seafood in a different light: "I think hopefully it will encourage them to buy, cook and eat fish, and to feel comfortable enough to do it."
On the first Wednesday of every month, Goldie offers one free kid's fish meal with every adult meal purchased. goldie.ie
Smoked haddock risotto by Aishling Moore
Home is all about comfort, peace and freedom and I love to cook this recipe at home. It's a one-pot wonder and it reheats well a day later too. Smoked haddock is a great product with a good shelf life, so it's rarely unavailable. Servings: 4
Ingredients
1.2 litres fish stock
olive oil, for cooking
1 onion, diced
1 celery stick, diced
½ leek, diced
salt and ground white and black pepper
3 garlic cloves, finely chopped
65g butter
300g Arborio rice
125ml white wine
250g natural smoked haddock, diced into 1cm pieces
100g frozen peas
1 bunch of fresh flat-leaf parsley, chopped
juice of ½ lemon
Method
Put the fish stock in a saucepan set on a medium heat to keep warm.
Heat a splash of olive oil in a large heavy-based pot over a medium heat. Add the onion, celery and leek and sweat gently for 5–6 minutes, until softened. Season with salt and white pepper, then add the garlic and sweat for 2 minutes more.
Add the butter and allow it to melt, then stir in the rice and cook for 2 minutes, making sure all the grains of rice get coated in the butter. Add the wine and allow it to bubble up to cook off the alcohol, stirring until it has all been absorbed into the rice.
Using a ladle or a measuring jug, add approximately 100ml of the warm stock to the rice at a time, stirring regularly and allowing the rice to absorb all the stock before you add the next 100ml. This will take 20–25 minutes.
Once all the stock has been absorbed by the rice, add the diced smoked haddock and frozen peas and cook for 2 minutes. Stir in the chopped parsley and lemon juice and season with salt and lots of black pepper. Serve straight away.
The Gathered Table: A Taste of Home (€30) is compiled by Gather & Gather, with all proceeds going to Peter McVerry Trust. ninebeanrowsbooks.com