Your daily bread: Sourdough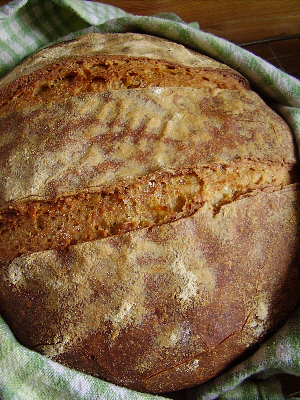 No longer having the easy access to Arbutus Bread that was one of the perks of my job in Urru Mallow, I've gone back to baking my own. At the moment I'm on rotation between three different breads – the Seedy Spelt Bread that I mentioned a few weeks ago, a Brown Yeast Loaf that still needs a bit of work and my old favourite, the Sourdough that I mastered while in Ballymaloe.
My starter is still alive and kicking, despite having most of a year sitting and doing very little in the fridge. Luckily, I fed it during the demo I did for the Conversations on a Farmers' Market in Urru so it didn't get totally neglected.
Before I started using it again this year, I gave it a few feeds of flour and (non-chlorinated) water and it wasn't long before it was bubbling up and over the jar. Now, as you can see, it's totally back to life, producing two gorgeous loaves of Sourdough Bread from each baking.
But time's running out – lacking a fridge of sufficient size to slowly rise the dough overnight, I've been putting it into our spare room, window left open, so that it can take it's time. Now, with the onset of milder weather, I'm wondering if my sourdough window of opportunity is closing. There's no way that little fridge is going to fit two baskets of dough and it's just not worth doing one at a time. I'm just going to have to figure out another way of managing it.