Read: Irish Examiner | New Irish classics: homemade jambons, how to make turnip sexy, and more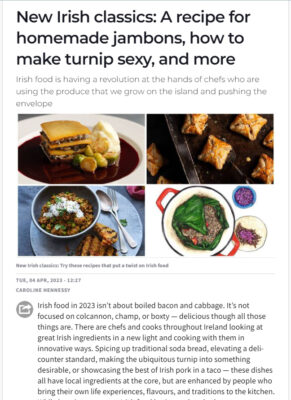 First published in the Irish Examiner on 4 April 2023.
Irish food in 2023 isn't about boiled bacon and cabbage. It's not focused on colcannon, champ or boxty, delicious though all those things are. There are chefs and cooks throughout Ireland looking at great Irish ingredients in a new light and cooking with them in innovative ways. Spicing up traditional soda bread, elevating a deli-counter standard, making the ubiquitous turnip into something desirable or showcasing the best of Irish pork in a taco: these dishes all have local ingredients at the core, but are enhanced by people who bring their own life experiences, flavours and traditions to the kitchen. While keeping an eye on Irish food heritage, there's also an eagerness to look beyond the confines of this island and incorporate new ideas.
Whether you're a vegetarian, a fan of Indian spices, Mexican ingredients or celebrating Irish dairy, there's a place for you here. It's the way that we all cook now, pulling inspiration from a myriad of sources including recipe books, restaurants, spice shops and social media. Pull up your chair to a table that features these new Irish classics – it's a most delicious place.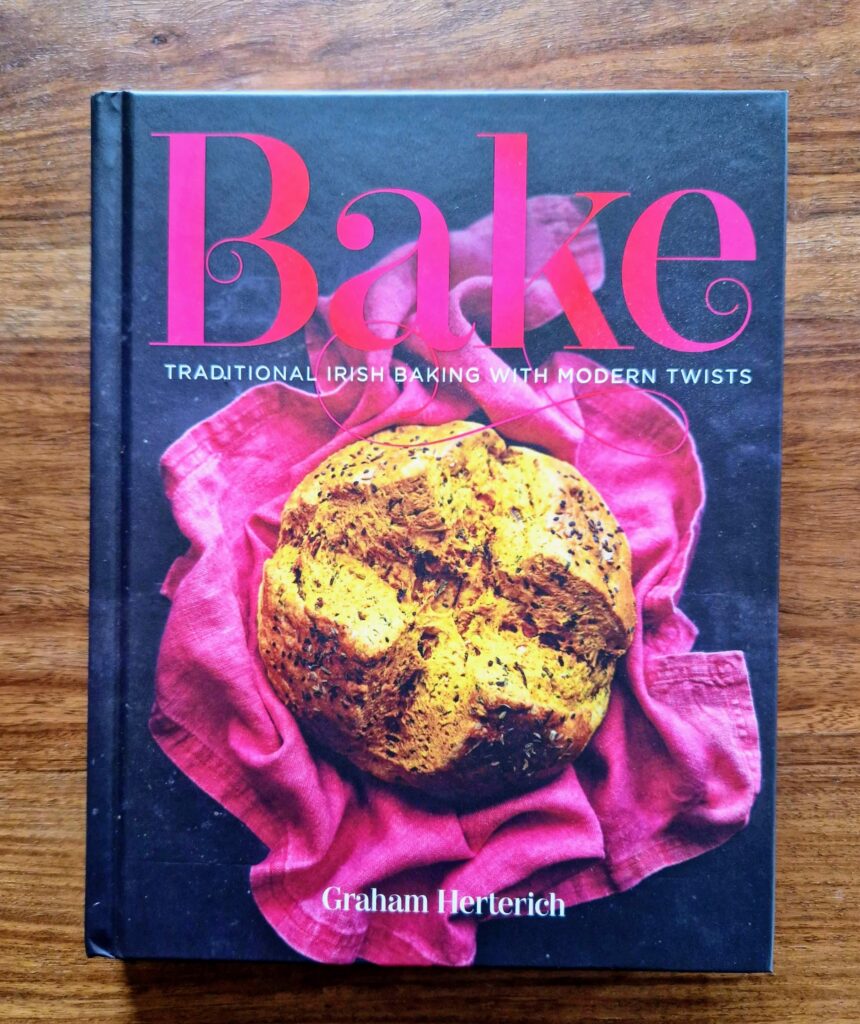 Soda bread with a twist: Panch phoran soda bread with lamb keema curry
"Traditional Irish baking with modern twists." That's the subtitle of Graham Herterich's debut cookbook Bake (Nine Bean Rows) and he delivers in every way. The book is a celebration of classic Irish bakes like brown soda bread, tea brack and apple tart, including exemplary recipes for those dishes, but each classic is followed by a non-traditional alternative: rye, ale & honey bread; malted coffee, chocolate & pecan brack with a variety of toppings and flavoured brack butters; and a Dingle gin, lemon and fuchsia tart inspired by what Herterich calls "the fuchsia-lined boreens of West Kerry."
For Herterich, who opened The Bakery in Rialto in 2018, Irish food is "memory. Remembering. It's not just a type of food, it's a feeling of sitting around the kitchen table, that warmth and cosiness. I don't want to say bacon and cabbage or tea brack, it's more the warmth and emotions of a lovely time." Growing up as one of five children in Athy, Co Kildare, much of his cooking is inspired by the women that surrounded him as a child. His mother, sister, grandmothers, aunts and family friends, all named at the start of the book, instilled a real grá for baking that comes across in his writing. Endlessly creative – when we talk, he waxes lyrical about a recent version of chicken and waffles that he made, substituting a soda farl for the waffle element – he loves the fact that "traditional Irish baking is fast and cheap. Two hours after you have an idea, you're eating the result." His playful and inventive attitude in the kitchen has seen Herterich reinventing classic teatime treats like purple snacks, mikado and kimberley biscuits. He recently started a subscription-based brack club, the first of which involved China rose tea and prosecco-soaked sultanas, along with dried strawberries, rose petals, white chocolate and pink peppercorns.  
Herterich's love of spices – " a hobby of mine is going into spice shops. I like to pick up a bag of something different, research the living daylights out of it and figure out how I can incorporate it into traditional Irish foods" – led to the development of the panch phoran soda bread recipe that graces the cover of Bake. Inspired by Sunil Ghai's goat keema pao from Dublin's Pickle Restaurant, Herterich pairs lamb keema with a vibrantly flavoured soda bread that incorporates turmeric and a spice blend called panch phoran. "Soda bread is fast and it's a great carrier of flavour," says Herterich. Since the book was published, "lots of people have tried it and are loving that idea of sharing a loaf of bread and a pot of curry."
Bake by Graham Herterich (€25) is published by Nine Bean Rows.
thecupcakebloke.com
Jambon, but not as you know it: The beloved jambon
It's all about the produce for chef Niamh Fox. Having worked at Rochelle Canteen in London, Ard Bia and Kai in Galway, she has foraged her own seasonally-led path since moving to Co Clare. A veteran of festivals and pop-up food events – barbecuing at The Big Grill, serving low and slow feasts at the West Cork Food Festival, producing locally sourced and foraged dinners on Inishbofin – as well as catering for yoga and self-build retreats, Fox has consistently worked with the best of local ingredients. 
Fox grew up on a farm on Inishbofin, off the coast of Connemara, with a grandmother who used to make the butter for the island. When she thinks about Irish food, she – unsurprisingly – focuses on what's native to Ireland. "We are lucky to have the soil and land to support great vegetables, dairy and meat, some fine fish in our seas too." Fox also acknowledges the importance of looking back to our not-so-plentiful past: "even in times of famine for an impoverished population we've done well to endure and still have a surviving history of the cultivation of butter, herding animals, resourcefulness." 
Her jambon first appeared in Milk by John and Sally McKenna. A classic of the hot deli counter, Fox developed the recipe because she wanted to put it on her menu: "it's something that had the capability of being deeply tasty, simple to make, well loved and easily recognised." While the word jambon means ham in France, these hot flaky pastries filled with creamy, cheesy sauce and flecked with bits of its' savoury namesake have, in recent years, become identified as quintessentially Irish. Fox acknowledges the role that the hot deli has played in everyday eating: "the chicken fillet roll fed a nation, spawned the boom – and still survived! The jambon has done equally well and I wanted to give it a chance to stand up to quality ingredients and really show what it could do." 
This is where Fox's love of Irish produce shines through: "ideally it would be a ham you have cooked yourself, [cut into] lovely thick slices. If you can't do that then I'd be giving Fingal Ferguson and the Gubbeen gang a shout to get some of their delicious ham or try your local butcher's ham." Cheese is important too and Fox recommends "something with a good melt factor." She likes "a fine farmhouse cheddar like Hegarty's, I also like to do a bit of a mix so I could go for a mature Gubbeen or even a bit of a fridge clear out and go for a few cheesy odds and ends." Make sure you bake plenty of these savoury mouthfuls as they're always a winner: "you can see people are giddy with enjoyment as they break into the pastry and see the cheese and béchamel oozing out."
Niamh Fox is on Instagram at @little_niamh_fox
Her jambon recipe is from Milk by John and Sally McKenna (Estragon Press)
guides.ie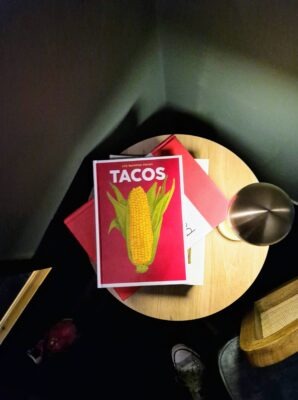 Making the most of Irish pork: Pork pibil tacos
For Mexican chef, food writer and shopkeeper Lily Ramirez-Foran, Irish food means family. She has been married into an Irish family for more than 20 years and observed how the concept of Irish food has changed a lot since then. "It's been a journey of discovery…The more I live and learn in Ireland, the more I understand the social and political contexts of food in this country." The founder of Picado Mexican, Ireland's first Mexican grocer and cooking school, in Dublin's Portabello, Ramirez-Foran understands that food can act as an important connector for emigrants. "Irish food…Irish ingredients represent a bridge between my past and my present. I make Mexican food every day with beautiful Irish ingredients," says Ramirez-Foran. "My pantry is a mixture of Irish and Mexican ingredients and I'm the better cook because of it." 
In her cookbook Tacos, published last year by Blasta Books, Ramirez-Foran uses the Mexican taco – a dish that Irish people have been enjoying a full-on love affair with over the last few years – to showcase a variety of techniques and recipes. For her first cookery demonstration in 2011 she used Irish free range pork to make pork pibil, a traditional Mexican dish from the Yucatan Peninsula, for an enthusiastic group of Irish food bloggers. It's been a mainstay in demos ever since. "It's Mayan in its origins and my version is adapted to the modern way of living and cooking as well to suit the ingredients we can get in Ireland." 
After years of cooking at home and for cookery demonstrations in Picado, she knows that this dish can win anyone over. "It was my calling card," she says, "my way to say, hey, don't be afraid of Mexican food, try this, not spicy and uber flavoursome dish!  It opened many doors for me." The only unfamiliar ingredient was achiote paste, a bright red spiced paste. This is made with annatto seeds – something that Irish people may have only encountered previously as a colouring in red cheddar – but achiote paste has now become more widely available. 
For pork pibil, Ramirez-Foran takes the best of Irish ingredients and combines them with Mexican techniques and cooking methods to make a flavoursome feast: "it showcases some of the excellent pork meat we have in Ireland, but also our amazing cider vinegars, the tomatoes, onions, garlic all grown locally. It's a win-win!" The distinctive result – juicy, orange-red meat with a spiced/sweet citrus flavour – is irresistible. "I recently served this dish in a crispy tostada, topped by a red onion pickle to an Irish Michelin-starred chef," remembers Ramirez-Foran. "I will never forget the surprised look on his face. He could not believe how good it was. That reaction made my year!"
Tacos by Lily Ramirez-Foran (€15) is published by Blasta Books.
www.picadomexican.com

Taking turnip to new heights: Braised turnip galette of chestnut & portobello with beetroot port gravy
~Making turnip sexy. That's what Denis Cotter achieved at Cork's Paradiso restaurant when he put this braised turnip galette on the menu. It's a recipe that he came up with "one quiet evening in the Paradiso kitchen when I was trying to do something that would make people think differently about turnips." A vegetable that grows well in the Irish climate, turnip often plays a supporting role in a meal but is rarely the star. Cotter, who has always focused on cooking vegetables – rather than vegetarian cooking – literally looked at the root in a new way, "seeing different shapes within the haphazard and misshapen outer form." By trimming and cutting a turnip into thin sheets, slowly braising them in the oven and layering the sheets with a mixture of mushrooms, chestnuts and cheese, he transformed a humdrum ingredient into something that has remained a much-loved staple of the Paradiso menu for many years. 
The reaction from customers – and from cooks who have made the recipe at home – has always been positive: "People who eat it for the first time usually can't believe it is a turnip dish, with its combination of elegance and rich, comforting flavour. That makes it a hugely pleasurable experience for both the diner and the cook." It even sounds sexy: braised turnip galette of chestnut and portobello with beetroot port gravy. Who could possibly resist? 
As a vegetarian, Cotter believes that Irish food is more about "ingredients than specific dishes or any kind of tradition. Probably because of my own personal nostalgia, I'm very attached to potatoes, turnips and cabbage. From three decades of working with an innovative grower, I also think of things like asparagus, artichokes, broad beans, squash and loads more as essential to my idea of Irish food." In his first book, 1999's The Cafe Paradiso Cookbook (Atrium), he was clear about his concept of Irish food: "I said, rather optimistically, that Irish food is made with ingredients grown here and cooked in any style or perceived culture by people living here. It's very satisfying to see that come to pass, there is so much diversity of ingredients and cooking in our food culture now." 
Cotter's work with local growers and in putting Irish vegetables at the centre of the plate continues in collaboration with the current kitchen team, headed by chef Miguel Frutos. As Cotter celebrates 30 years in business this year – no easy task in the notoriously fickle restaurant world – the food at Paradiso continues to delight and excite.

Denis Cotter is the founder and executive chef at Paradiso.
paradiso.restaurant