Redcurrant Almond Cake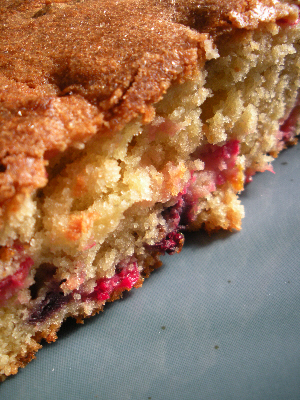 If you grow any soft fruit, in the summertime there is always a need for a simple cake recipe that lets you showcase the berries (and use them up). Last year, it was this Blackcurrant Almond Cake, which I made several times before the blackbirds finished off my currants, but this Midsummer Cake from Nigel Slater is my new favourite.
He uses blueberries and peaches; not having either at hand, I made it with a box of the redcurrants from the Daily Spud, throwing in a handful of last year's blackberries that were still in the freezer. His original recipe is here. Mine, slightly adapted to fit in with the vagaries of my own kitchen and ingredients, is below. This is one of those cakes that looks unremarkable but gets compliments from everyone. Well worth adding to the repertoire.
Redcurrant Almond Cake
Butter – 175g, at room temperature
Caster sugar – 175g
Eggs – 2
Self-raising flour – 175g
Ground almonds – 100g
Amaretto – 1 tablespoon
Redcurrants or other soft fruit – 300g
Caster sugar – 1 tablespoon
Butter the base and sides of a 23cm round tin, lining the base with a circle of baking paper. Preheat the oven to 170ºC (fanbake 160ºC)
Using a hand mixer, cream the butter and sugar together until light and fluffy. Beat the eggs in, one at a time, making sure each is fully incorporated before adding the next. Whisk the flour and almonds together and add to the mixture, half at a time. Mix in the Amaretto, then fold in the fruit.
Spoon into the prepared tin, sprinkle with the tablespoon of caster sugar and bake in the preheated oven for between 1 hour and 1 hour 10 minutes until well browned and firm to the touch. Put the tin on a cake rack and leave for 10 minutes to cool before turning it out.
Good with softly whipped cream or natural yoghurt.