Pumpkin pie (with a gluten free crust)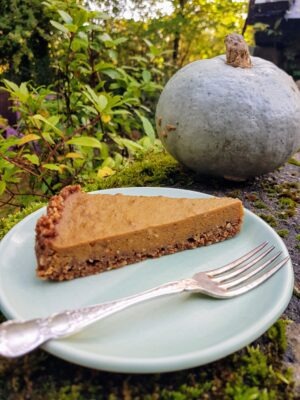 My first taste of pumpkin pie was as part of a yoga-and-dinner deal at Govindas way back when I lived in New Zealand. It was $15 for a class, which included a simple – but very welcome, in those penniless days – three-course dinner. Dessert was always eagerly awaited, particularly when it was, according to the lads that I used to sit with, the best pumpkin pie in all of Christchurch. One taste and I was convinced – but that was back in 2005 and pumpkin pie hasn't exactly crossed my path too often since then.
Until this year.
While recipe testing as part of a feature that I wrote for the Examiner on using pumpkins, I made a lot of pumpkin purée, stashed it in the freezer and started planning my pie.
I made two versions, doubling the pumpkin custard filling first time round and, incidentally nearly exploding my food processer at the same time, but it was worth it! The first had a regular pastry base but, despite pre-baking, it still ended up with the dreaded soggy bottom. The following day, I used the rest of the filling in a gluten free biscuit crust for Sunday lunch. It was my coeliac father's first taste of pumpkin pie. And his second. He went home with thirds and fourths.
It took me 16 years to get around to having my second taste of pumpkin pie. I don't think I'll wait as long for the next pie to arrive on the table.
Pumpkin pie (with a gluten free crust)
I used gluten free digestives and oats to make this tart but, if you're not catering for coeliacs, feel free to use non-GF options. The filling is inspired by Felicity Cloake's recipe in The Guardian, using of my own pumpkin spice and a very inspired addition of Stonewell Cider's Tawny aged and richly flavoured cider. If you can't get your hands on this – and you should definitely try, a chilled glass is perfect with the pie – substitute apple brandy (or brand(e)y). There are several Irish versions well worth trying, one from Longueville House, Highbank and I know that Blackwater Distillery also has one in the works.
Crust
175g digestives, gluten free if necessary
50g oats, gluten free if necessary
100g butter, softened
3 tablespoons sugar
Pinch of salt
Filling
250g pumpkin purée (see below)
145g maple syrup
2 teaspoons pumpkin spice (see below)
2 tablespoons Tawny cider or apple brandy
2 eggs
150ml evaporated milk
Pinch salt
Preheat the oven to 180C. Grease the sides and base and sides of a 25cm diameter loose-bottomed tart tin. The butter wrapper that you're about to throw away is handy for this.
Roughly break up the digestives and add them to the bowl of a food processor with the oats. Whiz until they turn into rough crumbs. Add the softened butter, sugar and salt. Blitz everything together until they're well mixed and start to clump. Scrape into the tart tin and, using the base of a straight-sided measuring cup, press evenly and smoothly across the base and – very importantly – up the sides of the tin. Bake for 15-20 minutes until dark golden. Allow to cool.
For the filling, put the pumpkin purée, maple syrup, spice, Tawny or apple brandy, eggs, evaporated milk and salt into the food processor and blend until smooth. Put the tin on to a large rimmed baking sheet – in case of leakage – near the cooker. Carefully pour the filling into the crust and delicately transfer into the oven. Bake for 30-40 minutes, until set. Cool on a wire rack and serve at room temperature with a dollop of whipped cream or vanilla ice cream.
How to make pumpkin purée
Preheat oven to 180C. Choose a medium sized pumpkin and cut it, carefully, in half. Remove the pulp and seeds (bake the seeds separately) and brush the cut side with a little oil. Line a baking sheet with greaseproof paper, place the pumpkin cut side down and roast for 45 minutes to 1 hour or until the pumpkin is tender to the point of a knife. Peel off the skin, scoop the flesh into a food processor and pulse until smooth. Freeze purée in 425g bags, which is the weight of one tin of Libby's, as that's the amount most often called for in a recipe. Unless you're making this tart, in which case you need 250g of roast pumpkin.
Pumpkin spice
1 tablespoon ground cinnamon
2 teaspoons ground ginger
½ teaspoon freshly ground nutmeg
¼ teaspoon ground cloves
¼ teaspoon ground allspice
Measure everything into an airtight jar, put on the lid and shake well. Makes more than you need for this recipe but it's a great spice blend to have on hand.