Read: Irish Examiner | Gathering at the table is the essence of home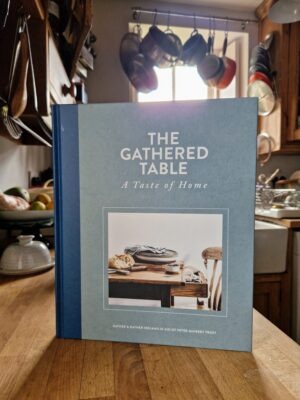 First published in the Irish Examiner on Friday 28 April 2023.

Roman chicken and chips from Darina Allen. Ahmet Dede's spiced lamb shoulder. Irish beef cheek lasagne from Tipperary butcher Pat Whelan: just three of the comfort food classics in The Gathered Table: A Taste of Home, a collection of 55 recipes from the Irish food community in aid of Peter McVerry Trust.

For this charity cookbook, the recipes were collected by workplace caterer Gather & Gather Ireland – who manage the food in places like Airfield Estate's Overends Kitchen, LinkedIn, the RDS and UCD – then edited and published by Kristin Jensen of the Nine Bean Rows boutique publishing house. It was launched, with unfortunate symmetry, the day before the ban on no-fault evictions was lifted on 1 April, with the corresponding fear of an increase in homelessness.

Food and home are inextricably bound together. Many of us count ourselves fortunate to be able to put a homecooked meal on our own table to eat with family and friends. Then there are those whose lives are impacted by homelessness. Without a home, without a kitchen, without any kind of certainty, it's impossible to cook good nutritious food. You don't have a pantry or storecupboard to draw on. You can't store leftovers in your own fridge or freezer. You might not have access to an oven or hob or any kind of food prep space. It might be possible to survive but it's difficult to thrive without a place to cook for yourself and your family, without a place where you feel secure and have the comfort of home.

Established 40 years ago, national housing and homeless charity Peter McVerry Trust focuses on supporting people out of homelessness. For 2022, they worked with more than 12,000 people in 28 local authorities across the country, delivering homes for people in need. The team behind The Gathered Table have a simple aim: to raise funds for Peter McVerry Trust so that the charity can enable more people to have their own homes, their own kitchens and plan for their futures.

"We've been super happy with the feedback that we've got from everybody," says Gather & Gather Ireland managing director Pauline Cox. "A bit overwhelmed by the reaction. Even the people who contributed the recipes were blown away by how the book looks and feels." Crisply designed by Jane Matthews, with deliciously textured photography from Katie Quinn and plenty of accessible, cookable recipes, The Gathered Table is a book that will sit as comfortably on a coffee table as on your kitchen counter.

Gather & Gather Ireland has had a long-term association with the Peter McVerry Trust, Cox says, starting more than 10 years ago. At the time, G&GI was owned by facilities management company Mitie, who encouraged people to get involved in volunteering as part of their corporate social responsibility (CSR) initiatives. "They had volunteer days for employees, who got involved in working on some of the houses that they [Peter McVerry Trust] refurbished." The link continued, with G&GI supporting their annual cycling event. "Mark [Culinary director Mark Anderson] also kept up the link. A few years ago he did a very low-key little cookbook for people who were moving into their homes but he also had an idea in his head about doing something on a bigger scale." Taking to the stage at the Food on the Edge international food symposium in 2021, Anderson announced a call out for contributors to a cookbook. Recipes came thick and fast from chefs like Anna Haugh (beef and red wine stew) and Santosh Thomas (easy chicken curry), food producers – Sally Barnes' Cullen skink, banana bread from Ellie Kisyombe of Eillie's Kitchen Home Edition – and butchers, including Rick Higgins (barbecued pork chops with mustard mash) and Peter Hannan (baked sausage meatballs in tomato sauce). There's nothing too cheffy, nothing involving long lists of ingredients or specialist equipment. The brief was focused, Cox notes: "Mark was very specific – he didn't want any restaurant food. It had to be something that you would want to cook at home."

The Gather & Gather ethos, Cox says, is "very much about cooking from scratch. You go into our kitchens and you don't find packet sauces or mixes…our chefs cook from scratch and cook authentically and cook with the seasons." Recipes in the book have a similar character, ranging from bread & breakfast, through meat, seafood and vegetables with a short dessert chapter. These are all simple, hearty comforting dishes, whether it is the smoked ham and leek pie that hotelier and food producer Olivia Duff cooked for a visiting Ukrainian family or the mac 'n' cheese that Jess Murphy's Mum makes when she visits Galway from New Zealand. Dublin-based chef Sunil Ghai of Pickle, Tiffin and Street Indian restaurants sums it up in his headnote for sweet and sour fish curry: "Home means food cooked by or for your loved ones."

With production costs of the book being funded by the Gather & Gather Ireland supplier network, all proceeds from the sales go to Peter McVery Trust. "Having your own home means that you're self-sufficient," says Cox. "It means that you can buy food, even the most basic of ingredients, and feed yourself. There are stories in the book from people helped by Peter McVerry Trust and many of them are about being able to bring members of their family to come and visit and eat, something that so many of us take for granted."

The Gathered Table: A Taste of Home (€30) is available from all good bookshops, independent retailers and online at ninebeanrowbooks.com.