Easter baking: Choc chip hot cross buns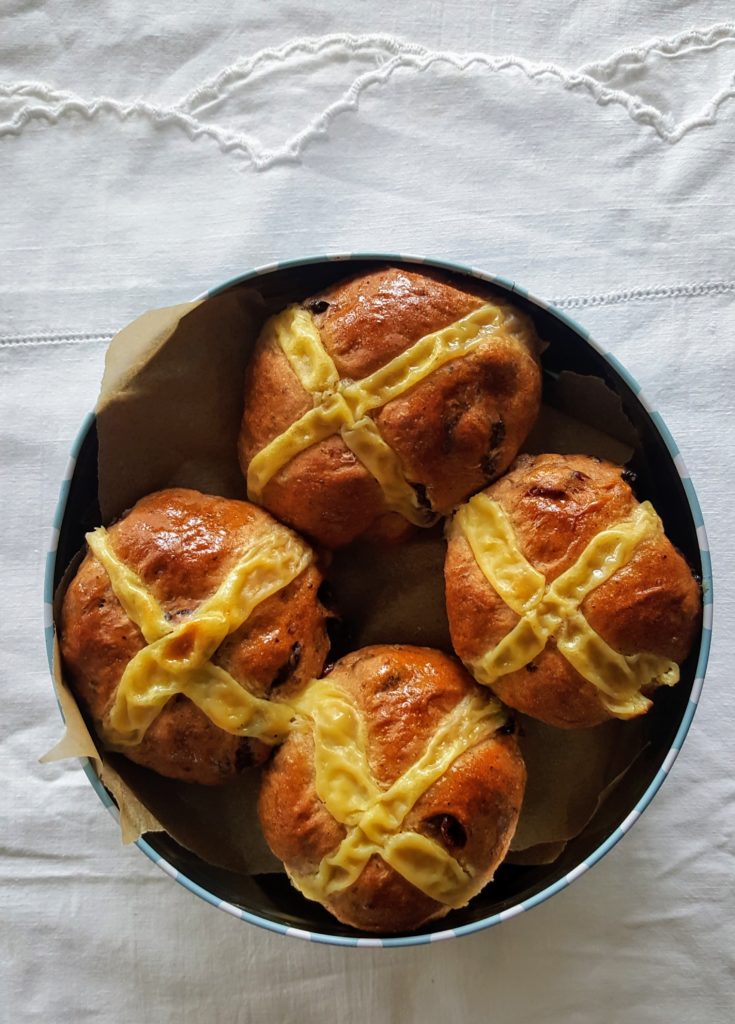 When all around is madness, the kitchen – its rituals and habits – can be sanity. I'm not talking about the must-do-everyday breakfasts and lunches and dinners and snacks (why on earth do children want constant snacks while at home?) but rather about a baking project that takes a little more time, something that lets us enjoy the process – and put the kids to work – that we don't have to squeeze into the busyness of our days.
These gently spiced hot cross buns are an Easter tradition at the cottage. When I lived in New Zealand, I picked up the habit of adding a handful of chocolate chips. A couple of years ago, I also included another NZ innovation; Auckland's Ima Cuisine makes legendary HCBs with – impossible to resist – a pastry cream cross.
This Middle Eastern restaurant, run by Israeli-born Yael Shochat, was right around the corner from the apartment hotel that we stayed in on our 2016 visit to Auckland. I loved the large glass window that allowed passers-by to watch action in the bakery, the coffee and pastries, and a menu which included brioche French toast, shakshuka and Yemenite Jewish fried flatbread malawach. Following Ima on Instagram after I returned home, I spotted their hot cross buns and an obsession was born.
It's paid off.
Stay safe and eat hot cross buns.
Hot cross choc chip buns
You'll get the best result if you use strong flour in these buns but – times being what they are – yesterday's batch were made with a mixture of wholemeal and plain flour. They were a little denser than normal but not enough to put us off devouring them. If you're looking for a simpler recipe for the cross – but the Ima pastry cream version is worth it, I promise – you'll find a very simple flour and water cross here. Makes 16.

For the dough:
250ml milk, at room temperature
1 egg
450g strong plain flour
1 teaspoon ground mixed spice
1 teaspoon ground cinnamon
1 teaspoon salt
55g caster sugar
55g butter, at room temperature, diced
1½ teaspoons dried yeast
100g sultanas
100g dark chocolate chips
For the pastry cream crosses – this makes a little more than you need but it's delicious served up on the side of the warm buns. Or eaten straight from the jar that you put it into for "safekeeping." 
30g cornflour
35g caster sugar
¼ teaspoon salt
1 egg
250ml milk
1 teaspoon vanilla
1 tablespoon butter
For the glaze:
1 tablespoon caster sugar
3 tablespoons boiling water
The bread machine: Whisk the milk and egg together. Pour into the bread machine, add the flour, spices, salt, sugar, butter and yeast. Select the dough setting, adding the sultanas and chocolate chips when the machine beeps.
By hand: Place the flour, spices, salt, sugar and yeast into a large bowl. Add the sultanas and chocolate chips, mix thoroughly and make a well in the centre. Melt the butter, add it to the milk and whisk together with the egg. Pour into the flour and mix to a dough. Knead on a clean surface for 4-6 minutes, until it feels elastic and smooth. Pop it back into the bowl, cover with a clean damp tea towel and allow to rise in a warm place until doubled in size. Depending on the temperature of your house this can take from 1-2 hours.
Both methods: Lightly butter two Swiss roll tins (or one large baking tray). Turn the dough out of the bowl and gently knock back. Divide into 16 balls and arrange 8 in each tin, allowing plenty of room for expansion. Cover again with clean damp tea towels and allow to rise for a second time (approx 45 minutes – 1 hour) until doubled in size.
While the dough is rising, make the pastry cream cross. In a large bowl, whisk the cornflour, sugar, salt and egg together. Heat the milk and vanilla in a heavy-based pot until almost boiling. Gradually pour the hot milk into the cornflour mixture and whisk well together. Pour everything back into the saucepan and whisk like crazy over a low heat, cooking for three minutes, until it is thick and smooth. Remove from the heat and mix in the butter until thoroughly amalgamated. Allow to cool, covered with clingfilm, and then put into a piping bag with a 1cm nozzle (or into a strong plastic bag, snipping the corner off).
Heat the oven to 190°C and pipe crosses on to each bun.
Bake for 15-20 minutes until golden brown. While they are baking, make the glaze by stirring the caster sugar and boiling water together until the sugar has dissolved. Brush over the buns as soon as they come out of the oven and allow to cool on a wire rack.
Ima Cuisine pastry cream recipe adapted from the recipe here.
More hot cross baking
2011 Easter baking: Spiced Hot Cross Buns with Chocolate Chips
2005 Hot Cross Buns, Kiwi Style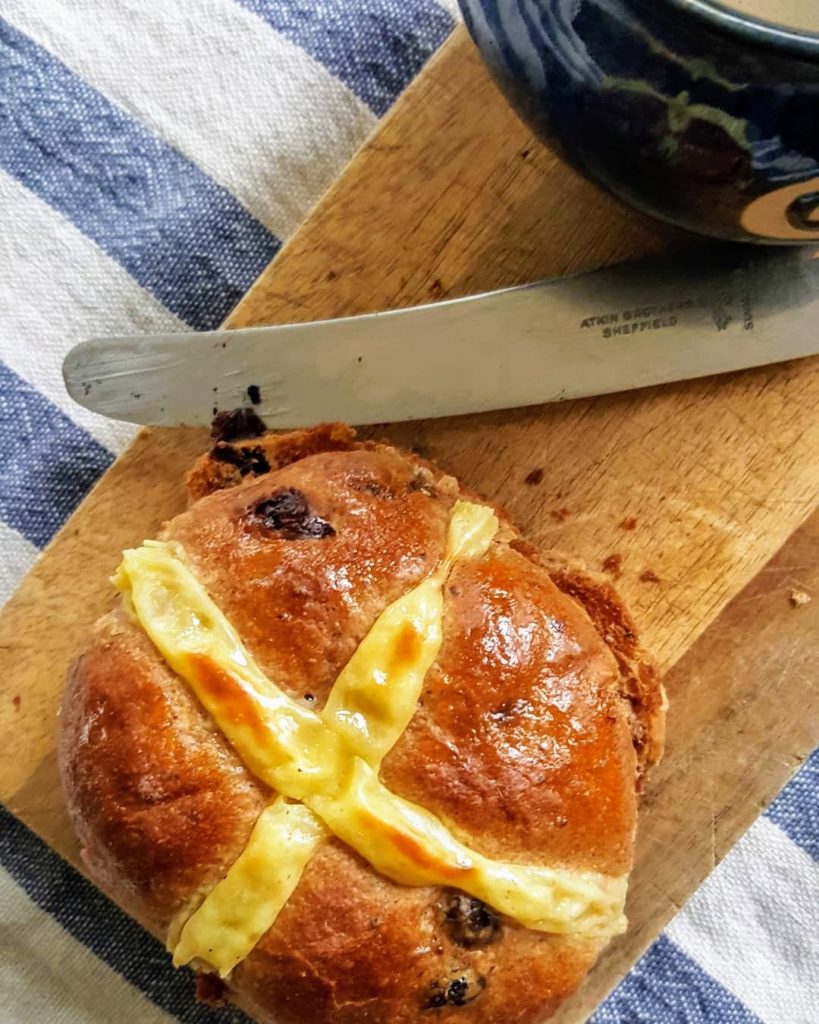 As Auckland is shut down because of Coronavirus, just like here, Ima Cuisine has been selling hot cross bun kits for Easter and Yael even made a video to show you how she makes them at home: How to make Ima's famous hot cross buns! Quarantine edition!